Weekend in Tokyo
Tokyo's arcane system of non-addresses mean you might as well follow your nose.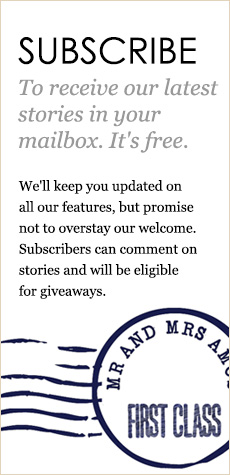 FOR A LOOK
is what you must have in Tokyo, whether it's Goth Lolita in frilly crinolines and platform shoes, Cosplay (dressing up as a character from a comic series), Cute Feral (dreadlocks and fake fur romper suits), Kabuki Punk, Golf Pro, Bicycle Messenger or conservative Ginza Shopping Lady. Even the young women who at first glance look like young women you might find in every city of the world, on closer inspection all have the same long, auburn-dyed tresses, seeming like members of a spooky cult, rather than girls simply out for a spot of window shopping.
I'm in Tokyo for a long weekend – Friday through Monday – looking to clear my brain with a shot of foreign culture, and there are few places in the world that get your head spinning like this street corner in Shibuya where the style tribes gather. I know from past experience that I'm not going to scratch the surface of this fascinating city in a weekend but this is one place where I'm happy to drop the pretence I'm an insider and behave like a gawking tourist. Or perhaps I should say an audience, because Tokyo is a series of performances, from the Harajuku kids posing on the Jingu bridge on Sunday afternoon to the ritual wrapping of the powdered green tea I buy in the Matsuya food hall. And it's a performance of a world so aesthetically pleasing, so well-mannered, that I'm OK with the artifice of it all for this short time, for where else in the world does a subway guard run himself to the ticket machine to get you a refund after you've purchased the wrong fare (they'd arrest you in Paris) or a shop assistant in a cheap chain store take the time to wrap your paper shopping bag in plastic because it's raining outside and it's unthinkable that the $25 Italian wool sweater you've just bought might get wet?
For a kick of adrenalin, Tokyo is the perfect short-stay destination, certainly if you're in Australia like us, and affordable these days because of an advantageous exchange rate. In many ways it is a familiar, a consumer-driven society that reveres European style, from Parisian cafés to Italian fashion labels and Viennese tortes. The Japanese are eager to please, so language is really not an issue. Smiling is a language all of its own and it's all you need to know. Frustrations arise at the extreme edges of this – our hotel porter, not wanting to upset us, insists our airport car is coming, even though it clearly is not, but we can't tell her she is wrong because it might bring her to the point of tears. But even Japan's strictest formality is preferable to, say, being yelled at for no reason by the man behind the deli counter in New York.
I'm travelling with Mr. Amos and we check into the modern Peninsula Hotel, which is a short walk from the department stores of the Ginza district and across the road from the gardens of the Imperial Palace. The feature of this hotel is that each room boasts an enormous walk-in dressing room, which demands to be filled with the bounty of extreme shopping. Unfortunately, I know that little I will see in Tokyo will fit me, including shoes, so the racks are bound to remain mostly empty. But it's less about the stash and more about the experience – strolling the boulevards and back lanes of the city on any pretext is a wonderful spectator sport.
We have a map, but it's not very useful. In the end, we fling ourselves around the city like rogue pinballs in a Pachinko parlour, which is probably as good a way as any to experience the city. Tokyo's arcane system of non-addresses means you might as well follow your nose.
IN THE END WE FLING OURSELVES AROUND THE CITY LIKE ROGUE PINBALLS IN A PACHINKO PARLOUR
The place to start, so that you can get a grip on the geography of the city is to jump on the subway and head for the newish Rappongi Hills development and the 53-storey Mori building that rises up from it. Once you get a hang of it, the train system is remarkably easy to use. There are two options – the subway line and the above ground JR line, which may be quicker for some destinations. Tickets are bought from a machine that provides English translation. You assess your destination on a map with the corresponding fare and then insert coins or notes. If you underpay on any journey, you can adjust the fare without penalty at the turnstile. The trains are frequent, cushioned on rubber wheels, extremely clean and comfortable, and stops are announced in English as well as Japanese. The current exchange rate means that a subway ride might only cost $2.
Much of the highly scurrilous district of Rappongi, with its nightclubs, bar girls and gangsters – in a city like New York it would be prized for being 'colourful' – has been razed to make way for a pristine granite and glass shopping mall, which houses the Grand Hyatt hotel, numerous upscale boutiques, smart cafés, pricey bars that may hit you with a cover charge, a cinema complex, an arena, peaceful Japanese gardens and the Mori Art Museum on the 52nd floor of the tower, which showcases important contemporary international artists in changing exhibitions. Included with a ticket to the museum is entrance to the Tokyo City View, a walkway that wraps around the building and affords gobsmacking 360-degree views, stretching as far as Mount Fuji in one direction. From here you can see the gardens of the moated Imperial Palace, the skyscrapers of Marunouchi, glittering Tokyo Bay, the Sumida River and the many canals that cut through the suburbs, the red-painted Tokyo Tower and the vast, leafy Aoyama cemetery with its white headstones like chalky teeth.
The scale of Tokyo can be a little overwhelming from up here, so it's best to get down to street level as soon as possible to explore the human side of the city. We head for the busy hub of Shinjuku to buy a camera from Yodobashi, which Mr. Amos considers the best camera store in a city of camera stores. The sales assistant, who barely speaks a word of English, spends the good part of an hour with us and then painstakingly writes out our 10% tax rebate, his helpfulness seemingly knowing no bounds.
We then walk across the plaza above the Shinjuku station towards the huge Takashiyama department store. Looking for it, we get lost, but an elderly gentleman who speaks English notices our confusion and asks if he may help. We don't have much time on our kamikaze attack on Tokyo's highlights, so we head straight for Takashimaya's beautiful food hall where we gawk at the exquisitely packaged food. It's autumn, so everything is decorated with red and gold maple leaves. We stop at a tiny six-seat bar restaurant at the back and eat a fantastic meal of chicken broth, dumplings, udon noodles with shredded chicken, salad, mango pudding and copious amounts of iced jasmine tea, for 900 yen (a little over $10) each.
We walk off lunch next door at the amazing Tokyu Hands eight-level craft store, where everything conceivable that you need to make anything by hand is sold. Then we walk a few blocks to the newest Uniqlo store near the station to check out the latest collection. This Japanese chain store has 99 outlets in Tokyo last count. It's by far my favourite destination for really inexpensive, high quality, basic clothing, even now that Jil Sander is no longer doing her exceptional collection.
We renegotiate the station and take the JR line three stops to Shibuya, where we end up outside Shibuya 109 watching the teenage girls. If you include the basements, the store holds ten floors of independent boutiques, crammed with all the trappings you need to be a member of any of the Tokyo fashion cults. There are boutiques selling hundreds of different patterned pantyhose, those selling tiaras and fake fur stoles, or corsets and black lace-up boots. The shops are named things like Doll Kiss, Honey Bunch, Buzz Spunky and Love Girls Market. It's more theatre than store and packed to the rafters with giggling girls. Mr. Amos stays out of it, which is probably wise.
The shops are named things like Doll Kiss, Honey Bunch, Buzz Spunky and Love Girls Market
An evening stroll around the funky back streets of Shibuya is followed by us exhaustedly collapsing in front of a galloping production line of fresh sushi at a sushi train under the JR railway line near our hotel at Ginza. The streets and the alleyways, under and alongside the railway bridges, prove a boon when we're hungry. Some restaurants are so discreet as to have no name or awning at all, other loudly proclaim their popularity by the lines of people waiting patiently outside. There are izakaya, casual food bars, standing sushi bars and small restaurants specialising in different dishes, from pork katsu-don to tempura. It's not only Japanese food – one night I tuck into a plate of steaming Shanghai dumplings at a restaurant called Hutong. As a rule of thumb, if the restaurant has no awning or prices outside, it's going to be expensive and formal. I prefer the rambunctious atmosphere of the more casual joints. If you want to eat somewhere chic, like Alain Ducasse's Beige on the tenth floor of the Chanel building, do it at lunchtime, when there's a prix-fixe menu and no waiting list.
Tokyo's serious hunters and gatherers are out on the weekends, strolling the Ginza and Omotesando, the gracious tree-lined boulevard that resembles Paris' Champs Elysees. Stores open from 11.00 until about 9.00 pm. Keen to pack in as much as we can, we ride an early train to the Hamamatsucho station, near the Hinode Pier, where we take a 40-minute cruise (760 yen) under the bridges of the Sumido River to Akasuka, where the Nakamisé shopping street is fantastic for cheap, antique kimonos, geisha bags, Hello Kitty nonsense and beautiful paper products. The district is famous for the Sensöji temple, an old fun fair, and the Kappabashi kitchen street, where they sell those plastic replicas of food you see in most restaurant windows. It's also renowned for its tempura but I want to go to my favourite sushi train, the Sushi-Go-Round on the market street, station end, where you can eat fresh, gleaming sushi and sashimi for less than 1000 yen for two.
Omotesando is dense with shoppers. The economic downturn has meant that the wealthy no longer timidly wear, say, Chanel head-to-toe, and may even mix their Vuitton with – horror – Uniqlo or Zara. All the big labels have impressive flagship stores here, no more impressive than the 'quilted' Prada store, with its triangular windows and black slate courtyard that is covered with a green moss trained into fading triangle patterns. But there's also GAP, H&M and Zara too.
We find a well-situated table under the awning of the French-style Anniversaire café and pay 1000 yen (about $12) for an espresso, which clearly includes a crowd-watching tax. Omotesando stretches down the hill towards Harajuku, where it gets younger and funkier. In the other direction, towards the residential neighbourhood, it narrows. The narrow end is more stylish, and contains the flagship stores of Yohji Yamamoto, Issey Miyake and the delightful, polka-dot covered Comme des garçons store. Just about every big fashion brand in the world is represented on Omotesando itself, but it's the back streets and lanes that lace the area that provide hours of entertainment. Towards Harajuku, there are so many hair salons specialising in the punk or bouffant styles both boys and girls favour that you're almost knocked out by the fumes of hair spray. (One salon, called Soil Hair, makes us wonder).
The Superfuture guide suggests we stop for a break at the Firefly Café near Cow Books, which apparently is somewhere behind Issey Miyake, but it takes us half a day of going around in circles to find it. It's worth it in the end – the café is cute and the bookstore specialises in editions of vintage Japanese books with fantastic covers. Our next stop is the Nezu Museum, housed in a deep grey modern building by architect Kuma Kengo and perfectly situated at the residential end of Omotesando, away from the crowds. Founded in 1940 in a bequest from industrialist Nezu Kaichiro, the museum contains an important collection of ancient Asian art, including rare Japanese scrolls and screens from the Edo period. The museum has been closed for several years and the new building opened two weeks before our visit. It's full of curious Japanese, few tourists. If fine art is not enough, what makes it a must-see destination is the museum's magnificent gardens, shaded by ancient maple, gingko and japonica trees, and dotted with weathered sculptures, wishing wells and pagodas.
We feel like we've come out of a deep restful sleep after an hour or two of roaming these cool, mossy paths so we kick on back to the Omotesando subway and eventually end up Naka-Meguro, a hip district of small boutiques and cafes that follows the banks of the canal. We've been told that there's nothing more pleasant than a stroll along the canal on a mild night, followed by a drink at a funky bar or a meal at a restaurant like chano-ma, where you lie on mattresses. Unfortunately, while we are underground, a typhoon lashes the city and we come up to the street unprepared for the rainstorm that ensues. Sodden, we ditch our plans and head back to the hotel.
Sunday morning, the typhoon is dumping rain on the city relentlessly, which puts paid to my plan to walk across the road from the hotel and stroll around the gardens of the Imperial Palace, taking with me the free guided tour the Peninsula hands out to guests on iPods. While I'm taking a swim in the hotel's pool, the sky opens up, and so we set off on the Chiyoda Line for Meiji-Jingümae station and the Jingu bridge, where the local kids gather in what has become a modern Sunday ritual, posing in their costumes for tourists. We can tell we're on the right train, because it's a kind of groovy express, packed with young boys showing off sky-high hair and girls dressed like Little Bo Peep.
There are four times as many tourists with cameras as there are Harajuku kids, so it's pretty disappointing. Most of the kids are keen to be photographed, but some of the Goths huddle in groups on the pavement, disinterested. For centuries, the clothing Japanese men and women wear has been proscribed, down to the fabrics they may dress in at certain times of the year. In a funny kind of way, these kids seem to me to be part of the same tradition – what looks like self-expression is really just an adherence to a set of strict rules laid down by the tribe.
We stumble across an ancient tradition when we take a stroll in the gardens of the Meiji shrine nearby. We find we have arrived on an auspicious date for weddings, and so we watch procession after procession of demure brides in white silk hoods, Shinto priests, kimono-clad attendants and their guests snake across the courtyard, almost causing gridlock. They all happily pose for photographs, just like the Harajuku kids but with sweeter dispositions.
Back to Ginza, where the main street has become closed off to traffic for the afternoon. It's our last evening, so we grab a table at the Ginza Bunmeido, a grand café serving French pastries that is bizarrely illuminated by a stained glass window depicting the court of King Henry VIII. My hot chocolate at 1300 yen includes the rubbernecking tax, for the café provides a great view of the strollers on the Ginza. None of them, I note, are dressed in Little Bo Peep costumes. But some of them carry her sheep – fluffy tea-cup size poodles, the kind that are sold at a nearby pet shop, The Barkery, for about 680,000 yen ($85,000).
I'm so besotted with department store food halls that I take one last pilgrimage to the basement of Matsuya, on Ginza, where we discover trays of perishable goods such as sashimi are being sold off at half price after about 5 pm. We take a feast back with us to the Peninsula and eat it in luxury, in front of the TV, watching crazy Japanese game shows.
The head is still spinning, but it's been a perfect weekend.