The Sexiest Hotel in the World?
20 shades of white on the Amalfi Coast.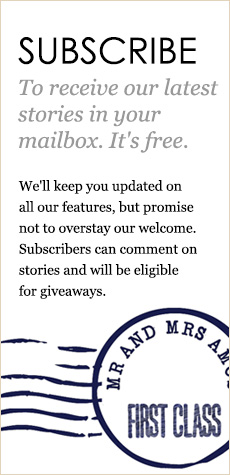 It's the perfect hotel
for a sexy tryst and yet there's hardy a shade of grey in the place.
The gorgeous, gleaming, mostly-white Casa Angelina on the Amalfi Coast, in the village of Praiano, is populated with honeymooners and couples, and it's easy to see why. Not only is the whole notion of cliff-hanging over the sparkling Gulf of Salerno with its views of Capri fundamentally romantic, the small hotel's breezy, Euro-chic white spaces seem like the dream setting for one of those upscale 'seventies soft porn movies, such as Emmanuelle.
It's all very subtle but there's a naughty sexuality at play throughout the hotel. If you look closely, some of the hotel's signature Murano glass sculptures based on drawings by Cuban artist Alfredo Sosabravo, which provide eye-popping touches of colour against the white, have cheekily erotic surprises in them. Baths are strewn with red rose petals and there are private candlelit nooks and crannies throughout the property for intimate romancing, including a restaurant table that appears to float on the sea and which is popular for proposals.
Everything is immaculate at Casa Angelina. We check into Romantic Sea View Room 308, which has a small terrace from which we can see neighbouring Positano and the curve of coastal road that hugs the cliffs all the way to Sorrento, but before we can kick off our shoes, we're visited by a maintenance man who's there to touch up any scuffmarks that might have appeared on the white paintwork after the previous guests have checked out. (We can't see any.) He's not just detailing our wall with any old white, he explains – there are twenty shades of white used throughout the hotel and there's a map of which white goes where.
Given that the walls, floors, linens, furnishings, bathroom, hallways and public spaces are all bright white, I'm in awe of the dedication that goes into keeping the hotel pristine. It's faultless. I find it difficult to imagine that it was once a 1970s-era bed and breakfast, which owner Tonino Capello, a toy manufacturer, had long admired from afar before he bought it, extensively rebuilt it, and opened as Casa Angelina, named for his mother, in 2005.
It's worthwhile splurging on a hire car from Naples airport, as we did, and arriving at Casa Angelina via the sensational cliff route, which is notoriously bumper-to-bumper in high season (but at least the views while you're stuck in traffic are mind-boggling.) The hotel's reception is at the top of the property, and the rest is terraced down the steep cliff, so that nowhere is without a view. Even the elevator has cut out portholes so that you can marvel at the sea view as you descend or ascend.
If the great coffee doesn't wake you up, the view of the glittering sea, framed by enormous windows, will.
The public rooms include sitting rooms with big, comfortable sofas covered in beautiful Gervasoni cotton and huge picture windows framing the ocean, a bar and cigar bar, a chic little 'business centre', a Wellness Centre with heated pool and a small spa that uses aromatic Nectarone organic products from Morocco's Atlas Mountains.
At the very bottom of the property, reached by elevator and a further 200 steps, is La Gavitella Beach Club where hotel guests have complimentary access to sunbeds, umbrellas and towels. The walk back up might be challenging but there's plenty of shade and beautiful terraced gardens to stop and admire on the way up. If a pool is more your thing, the hotel's pool deck, off the bar upstairs, is trellised with lemons and has superb views, with the added attraction of bartender Massimo's signature drink, the limoncello mojito, delivered to your sunbed, along with snacks from the bar.
The hotel's exquisitely positioned restaurant, Un Piano nel Cielo, floats halfway between sea and sky. Chef Leopoldo Elefante presents the cuisine of his native Campania using, wherever possible, produce grown in the hotel's own vegetable garden and seafood from local catches. The restaurant is wonderful for breakfast, with a delicious and lavish buffet. If the great coffee doesn't wake you up, the view of the glittering sea, framed by enormous windows, certainly will.
There are a few more dining options if you take the 70 steps up to the village and eat in one of the local restaurants. If you want to go further afield, the beloved local towns of Positano, Amalfi and Ravello are easily reached by road or water taxi. Amp up the glamour factor and hire the hotel's motorboat, Master Angelina, which takes up ten people, and on request will do 4-hour or 8-hour tours of the coastline, dropping in on local pebble beaches, or taking guests as far as Capri and the Blue Grotto.
If the all-white perfection makes you a little nervous, you might wish to check into one of the rustic Eudesea suites, charming former fisherman's cottages cut into the rock face down by the beach. The raw rock is a feature of the interiors, appealing to any latent cave-dwelling instincts.
Casa Angelina has thirty-nine rooms and suites and is open from May-September. Children over 12 are welcome.
Mr and Mrs Amos were guests of Casa Angelina. In Italy, they travelled via fast train courtesy of Railbookers and drove courtesy of Drive Away Holidays.