Sailing the Med in style.
Is Satori the world's most beautiful yacht?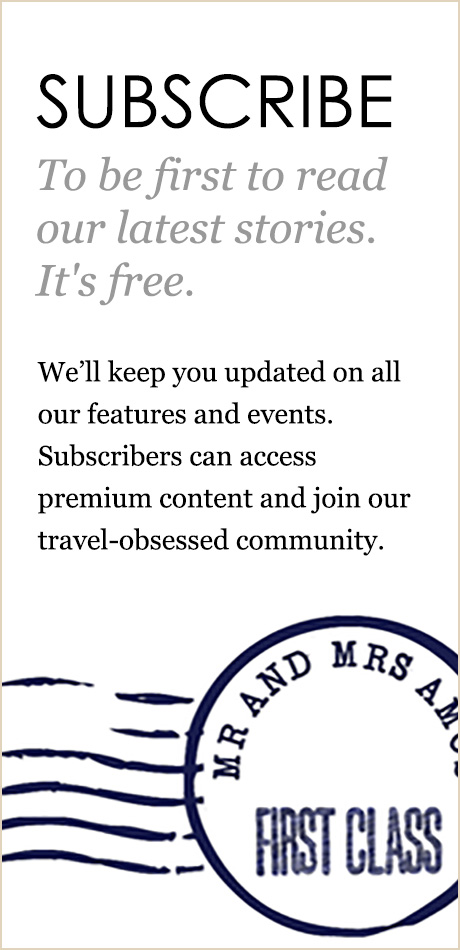 In the sheltered cove of Porto Azurro,
a village on the island of Elba, which sits just off the coast of Tuscany, a sinister yacht lurks in the marina, waiting out bad weather.
Dark grey, like a battleship, it is one of the mega yachts that are the status symbols of these seas in summer. Google it, and you'll find that the anonymous owner of the 55-metre long motor cruiser wanted to create 'a masculine and military concept with no compromise.'
Possibly to that owner's chagrin, there's an entirely different kind of yacht – one with sails – that is attracting all the attention in harbour this breezy day. Smaller racing boat dash past to get a better look. At one point, the assembled sailors on the back of one yacht stand and applaud it.
Satori is not like anything you'll likely to see elsewhere in these waters. Inspired by gulets, the traditional two or three-masted timber boats designed by Turkish ship builders, this 41.5-metre long, five-cabin, hand crafted, luxury schooner is reminiscent of a more elegant era of sailing in the 1920s and 1930s. With its solid mahogany hull, teak floors, walnut panelling, hand finished interiors and old fashioned touches such as vintage-style deck chairs and a freestanding bath, Satori is the kind of charter Jay Gatsby might have organised for a summer sailing the Italian Rivera.
Satori's creators, Danish property developer Claus Thottrup and his wife, Jeanette, a former fashion designer, are accidental ship builders, in a way.
The restlessly creative couple work together on building and decorating substantial residences for the well heeled through their UK-based company PN Homes, which specialises in the refurbishment of historic and listed properties. In 2001, living in London, the couple was looking to buy a home in Tuscany. They hadn't found anything they liked and were on the point of giving up when, on the way to Florence airport, they spotted in the distance a 13th Century manor house, cluttered with a ramble of outhouses and pig stys. The extensive views over one of Tuscany's prettiest valleys couldn't even be seen from the house. They bought it on the spot.
Satori is the kind of charter Jay Gatsby might have organised for a summer sailing the Italian Rivera.
But it never became the home they imagined. (They now live in Florence, with their young son.) Instead, it gradually morphed into a luxury hotel, spa and organic farm, although Jeanette says that wasn't her original intention. 'I'm not interested in being a hotelier. I think a lot of people do it better than we do,' the ebullient Dane says far too modestly, given that their twenty guestroom hotel, Borgo Santo Pietro, is among Tuscany's finest country estates and on Conde Nast Traveler's Gold List 2018 for the world's best hotels.
After more than a decade of perfecting the borgo, creating five hectares of private gardens, a lake, new villas, a spa, the Michelin-starred restaurant, Meo Modo, a cooking school and an organic farm with a flock of cheese-producing sheep, they turned their talents to the sea, adding ship builder to their portfolio of skills.
'Being from Denmark, sailing is like camping on the water,' Jeanette says of her native country, which has a coastline dotted with islands. However, it was Claus who was the keen sailor. When he rented a Turkish gulet one summer, Jeanette says 'I never expected I would like it.' But she found she enjoyed immensely the leisurely life of living on deck, sleeping, reading and eating aboard the wooden boat. This revelation was a kind of 'instant enlightenment' – which happens to be what satori means in Japanese.
'We wanted to offer non-typical boat charter to people, people who have lots of money but want to travel differently,' Claus says. 'We didn't make a yacht to turn heads,' Jeanette adds. 'Everyone is trying to design these modern-looking things. We wanted it to feel like an old boat with the comfort of a house.' Satori is, she says, 'the Orient Express on water.'
According to Jeanette, shipbuilders they approached considered the plans and said, 'you can't do it.' The weight of the all-mahogany hull was only one stumbling block. Undaunted, they established their own shipyard and collaborated with family friend and experienced captain, Ali Aker, on the build, using time-honoured Turkish techniques, while incorporating the latest engineering technology. This hybrid of ultra-modern and classic is what makes Satori such a unique vessel.
Claus talks with respect of the Perini sailing yachts that cost more than one million euro per metre to build. Those yachts, constructed of fibreglass, are the Rolls Royces of sailing. 'Yet everything they have on board we have,' he says proudly.
Add to this Jeanette's superb eye for interior design, and some bold inclusions such as solid marble, not veneer, in the bathrooms, and it's clear why the yacht has already captured the eye of a discerning crowd. Members of the Ferragamo family were among the first to charter her.
'We wanted to offer non-typical boat charter to people, people who have lots of money but want to travel differently.'
My first sight of Satori is from its tender, the stylish little motorboat that picks up its five passengers from the port of Scalino, which lies between Rome and Pisa. Flying the red and white Maltese flag, the yacht is anchored on a calm sea, with its elegant navy hull and cream sails folded. With the other guests, I embark via a telescopic staircase to a rear deck furnished with a comfortable sofa, club chairs, a bar and a generous day bed that is large enough to accommodate all of us. One of the small innovations of Satori is that the dining area has been moved to midship from where it traditionally is found on the stern, allowing for greater privacy in port.
From the deck we're shown into a walnut-panelled salon that has teak floorboards and ceiling with a light patina. 'Otherwise it would feel like being in a cigar box,' Jeanette says. The windows are large and rectangular, giving guests postcard views of the ocean. This indoor living area is furnished with a modular sofa, contemporary Danish-style chairs, a desk with iPad and computer, dining table, library, board games, and a large flat screen TV concealed behind a mirror, perfect for when the weather is inclement. Jeanette says she would love to add a fireplace, but acknowledges that's not a sensible, or legal, addition to a timber boat.
Downstairs, there are three guest rooms featuring queen-sized beds with hand crafted orthopaedic mattresses, marble bathrooms, flat screen TVs, iPads loaded with movies, Sonos sound systems, and Apple TVs for streaming via satellite. An additional guest room includes a steam room and can be converted into a gym or massage room upon request.
A spa therapist from Borgo Santo Pietro becomes the ninth member of the crew if guests require the luxury of on-call massages and bespoke facials during the cruise. And who would not desire them? Being massaged while the yacht is gently rocking is blissful. Satori's therapists use products from Jeanette's latest enterprise, the luscious Seed to Skin skincare range, which she has devised with chemist Anna Buonocore, using plants harvested from the borgo's organic garden.
The master suite is spacious with a serious 'wow' factor, featuring a king sized bed, window seats along two walls, a desk, his and her (or his and his, her and her) bathrooms flanking a marble shower stall, and a custom-designed free standing walnut bathtub. Throughout, framed black and white vintage images of Greek port life, sourced from the Benaki Museum in Athens, are hung. Jeanette is not a fan of 'desperate' interior designers who feel the need to place jarring 'statement' art on the walls.
'Jeanette's clear message is that it has to feel cosy and cocoon you,' Claus says. 'A boat should be a home.' One detail that's key to the atmosphere – lighting on Satori is pre-set to moods, so that the staff don't get it wrong. Elsewhere, the details are impeccable, down to the stylish black ropes coiled on the decks and the classic ecru colour of the sails.
Janette's obsession with beautiful fabrics and textures is evident throughout, as is her love of the hand made. Each piece of furniture, every cup and glass, is personally chosen, made by artisans, and has a story. That's the Borgo Santo Pietro brand, Jeanette says – handcrafted, relaxed, unpretentious.
Claus is particularly proud of his wine cellar. On a yacht of this size, finding space to store Satori's own boutique labels or to house the guest's own wine was difficult. He devised a clever solution – a custom-designed, air-conditioned cellar with 200-bottle capacity, hidden under the stairs that lead from the salon down to the guest rooms. The stairs pull up to reveal the wine store beneath.
Each piece of furniture, every cup and glass, is personally chosen, made by artisans, and has a story.
Up on deck, lunch is served from a gleaming open kitchen to a dining table that seats ten. A shade cloth can be drawn if the sun is too intense. Unlike other yachts, where galleys are usually minuscule and tucked away on a lower deck, on Satori guests can watch food being prepared and interact with the chefs. It's clearly something everyone working in the kitchen enjoys too. From waiters to crew to housekeeping, staff members have been chosen for their easy charm.
We were accompanied by chefs from Meo Modo, the fine dining restaurant at Borgo Santo Pietro, helmed by chef Giovanni di Georgio. Menus showcase organic produce from the farm and the freshest catch from local waters. Everything that comes out of the kitchen is light, inventive and pretty on the eye. Snacks might include seafood or vegetables on delicate rice crackers, terrine of foie gras in Vin Santo or toasted bread with tomato cream and burrata. Light dishes on offer might be ravioli filled with seabass and bottarga or steamed shrimp with cannellini beans. The signature lobster spaghetti is simple yet exploding with big chunks of the moist shellfish.
In 2014, the Thottrups opened a small, stylish but relaxed restaurant on the quieter bank of the Arno in Florence, La Bottega del Buon Caffé, and transformed it into one of the city's gastronomic highlights. Chef Erex Ohayon offers superb neo-Tuscan cuisine using organic produce from the borgo's farm.
A feature of Satori is that a chef trained in the kitchen of one of the Michelin-starred restaurants will be on board for every charter. On the daily menus are 'gourmet experiences' which include dishes devised by both chefs, perhaps pigeon with chestnuts and spinach, asparagus risotto with liquorice and mint, raw fish of the day. The chefs improvise happily and will share their recipes and skills for those inclined to take a cooking class.
Breakfasts are also a treat – a lavish buffet that includes pastries and cakes from the borgo's superb pastry chef Guilia Berti, fresh cut fruits, homemade jams and cereal blends, honey, cheese and butter from the farm, plus cooked dishes, including fresh eggs from some very pampered hens (whose gaily coloured coops can be visited at the borgo.) All meals are served on beautiful crockery, including some gorgeous water bubble plates handmade by Danish artisans Meadow Ceramics.
The temptation to lie on the rear deck day bed, like Cleopatra on her barge, was too great for me on a fine summer's day, but the other, more active, guests occupied themselves in port with playing with Satori's impressive collection of water toys, which includes water skis, kayaks, wake boards, snorkelling equipment, two Yamaha Superjet Jet Skis and two Cayago F5S Seabobs, a kind of underwater scooter. Also onboard are electric bicycles for shore excursions and an Optimist dinghy for lessons for first-time sailors and children.
Back on deck, space is maximised with a sunroof hidden away on top of the salon offering privacy for those who might like to sunbathe au natural. There are plenty of other spots to catch the sun. At night, a screen can be unrolled to create an outdoor cinema once the sun goes down. It's loads of fun to cosy up with a blanket under an almost-full moon, munching on hot popcorn from the kitchen, while watching a film from the library of ninety-nine possibilities. The boat's rocking is so lulling, though, I defy anyone to stay awake though the entire film. No one on our particular cruise did.
Satori's impressive collection of water toys includes water skis, kayaks, wake boards, snorkelling equipment, two Yamaha Superjet Jet Skis and two Cayago F5S Seabobs.
The Turkish crew all speak English. Captain Ali knows the Mediterranean coast intimately, and can steer Satori towards the best, most private beaches and coves. On our first evening, we wait out big seas in the harbour on Elba, taking the tender into the lively village for a pleasant passegiata before dinner.
If guests are interested in further activities on shore, 'we can propose an itinerary' based on the guest's personal tastes, Jeanette says. The steward provides extensive concierge services. Families are happily accommodated, even those with small children. A safety mesh can be affixed to the deck for additional security.
We followed a simple, but perfect, itinerary – lunch at La Bottega del Buon Caffé in Florence, followed by a one-hour car transfer to Borgo Santo Pietro, where we stayed one night before transferring to the coast for our cruise on Satori. We then returned to the borgo for four nights to experience the Thottrup's brand of hospitality more thoroughly and to soften the blow of having to abandon Satori to her next charter.
The stand out experience through all this is the sheer joy of sailing. It's when Satori's sails fill with wind and she elegantly cuts a swathe through the peaks and troughs of the swell on the open sea that the full beauty of her conception and execution can be appreciated. She might not be the biggest or most expensive luxury vessel on the Mediterranean but she hasn't been constructed for guests who value those things.
'It's a bit like an old sports car, ' Jeanette says. 'You have to have a personality to appreciate it.'
Satori sleeps ten guests with a total crew of eight (nine if a spa therapist is requested.) Base costs start at €99,000 per week. With food, wine, fuel, agency fees, harbour fees, expect the inclusive cost to total about €140,000 with tips on top, depending on the amount of sailing and other variables.
Villa rooms at Borgo Santo Pietro start at €565 per room per night; garden villas start from €1725; the new pool villas from €2925. Breakfast is included. As rooms are individually decorated, guests are invited to select their room of preference when booking. The hotel is 35 minutes from Siena, one hour from Florence and three hours from Rome by road. It is a member of Relais & Chateaux.
Satori is available for charter in 2020 from May to October 10.