Paris in Greenwich Village
A fleabag with literary cachet becomes a romantic hotel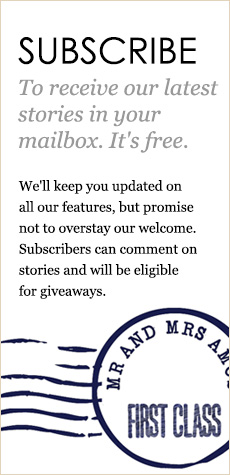 Most of the streets
off Fifth Avenue in New York's Greenwich Village are lined with beautiful brownstone row houses, but Eight Street has always been something of an anomaly. Primarily a commercial street, it runs between Sixth Avenue in the west right across to Avenue D in the East Village, cutting a swathe through once-Bohemian downtown, now the domain of the well-heeled.
The scrappy block between Fifth and Sixth Avenue has long been known as the street where you head if you hanker for a Gray's Papaya 99 cent hotdog or a pair of cheap shoes. Many of the buildings have seen better days and empty shopfronts make the facades seem further dispirited.
But things changed since Sean MacPherson moved in. The successful New Zealand-born hotelier is responsible for spearheading the regeneration of chronically down-at-heel New York neighbourhoods such as the Bowery and Meatpacking districts by boldly opening stylish hotels (The Bowery Hotel, The Maritime Hotel, Lafayette House, The Ludlow and soon the Hotel Chelsea ) where once there were only flophouses. The Marlton, a charming 107-room hotel opened in 2013, was most recently a freshman dormitory for the nearby New School.
'I always like these places that are in the heart of it and yet get somehow overlooked,' MacPherson explains from a corner of a sofa in the 'living room' lobby of the new hotel. 'What I kind of like is that it's gone unnoticed,' he says of the Marlton. 'It's a little gem waiting for its polish.'
The hotel was built in 1900 as low-cost accommodation. At the time, the neighbourhood was filling with artists attracted to cheap rooms and studios, only a stone's throw from the rarefied houses of Washington Square, written about by Henry James and Edith Wharton. 'It was something of a flophouse. It wasn't glamorous,' MacPherson says.
But, for such a modest building, over the years it has housed some illustrious –and notorious – guests. In the late 1950s beat poet Jack Kerouac lived there and wrote two novellas. Lenny Bruce was a resident in 1964 during his obscenity trial, as was Valerie Solanas in 1968 when she shot Andy Warhol. Over a century actors such as Lillian Gish, John Barrymore, Maggie Smith and a young Mickey Rourke stayed there. 'It was cheap and especially then there were no hotels downtown. If you were Lenny Bruce and needed a room you could go to the Chelsea or Gramercy Park hotels, but there was nothing down here,' MacPherson explains.
When the building became available is was very run down. One of Eighth Street's ubiquitous shoe shops was housed on the ground floor. 'The good thing is it hadn't gone through decade after decade of renovation. It was somewhat original, which helped get some clues to what to do. It needed everything. But it felt as if it still had its integrity or dignity just a bit."
'It's not really an academic or disciplined restoration. It's more an emotional restoration.'
MacPherson's team didn't change the configuration of rooms, although bathrooms were added to those that didn't have ensuites and two penthouses were constructed. The original coffered ceilings, the mouldings and wood panelling were intact, even though most had to be demolished and rebuilt. The original herringbone parquetry floors were kept. MacPherson's team found a number of photos of the exterior, so it was restored as accurately as possible, but there was nothing of the interior. 'It's not really an academic or disciplined restoration,' MacPherson says. 'It's more an emotional restoration.'
MacPherson says he was inspired by the romantic small hotels of the Left Bank of Paris. 'I felt that this neighbourhood was the most Parisian part of downtown New York.' One favourite Paris hotel is the Hotel des Saint-Pères, mentioned in F Scott Fitzgerald's Tender is the Night. 'It was small but it was elegant and I always liked that. In Paris everything's a bit elegant but a bit shabby.'
MacPherson designs, builds and decorates his hotels within his own company. 'I have the old fashioned way of using my own funds [along with partner hoteliers Richard Born and Ira Drukier]. It's personal.' In planning the Marlton, MacPherson stayed at The Paris Ritz before it closed down for renovation (it will reopen in 2015.) 'So often people feel that they want to make hotels that look like their budget. I kind of wanted to do the opposite. The rooms are tiny but they're done in the most luxurious way possible. I'm making something of a budget product that's done in a very high end way.' He jokingly calls the project 'Honey, I shrunk the Ritz.'
The rooms are very small but they're very well designed, with raised beds so that suitcases can slip underneath, plenty of cupboard and wardrobe space (including an iron and ironing board) and small but practical bathrooms. Power points are raised so that guests don't have to crawl on their hands and knees plugging in laptops and phones. The décor is enchanting, with marble bathrooms, crown mouldings, brass lamps, large flat screen TVs, Coté Bastide amenities, and quality bedding.
The rooms don't have desks, but many guests take advantage of the long communal table in the living room, with its great little coffee bar, which is complimentary for guests, as is the wifi. Guests can eat inside the 100-seat bar and café, Margaux, that adjoins the lobby, or take their meals into the living room area. 'I like the European idea of a complimentary breakfast and the sense of community in a hotel, where you see similar people. It's friendly,' MacPherson says.
The hotel's raffish vibe and very reasonable price point will ensure that it's continually packed to rafters. Plus, as MacPherson points out, 'Eighth Street is the most geographically convenient location downtown.' It's an easy walk to SoHo, Chelsea and the East Village and the nearby West 4th Street subway station connects to all the major subway lines.
Across the street, next door to the New York School of Drawing, Painting and Sculpture, which dates back to the Beat Generation 60s, some pricey condominiums replace the old tenements. The shoe shops have almost gone and the shopfronts are getting spruced up for new tenants. MacPherson is happy about this and also a bit conflicted. 'In New York affordability is the issue. Jim Jarmusch recently gave a speech where he said, once you could pursue your career and have a drug habit. Now, forget about it."
And what about all those famous ghosts? Do they haunt the hotel? 'I like ghosts,' he says. 'But I think this renovation has been so thorough, we exorcised them!'