Poetry in motion
A perfect day on the Connecticut Coast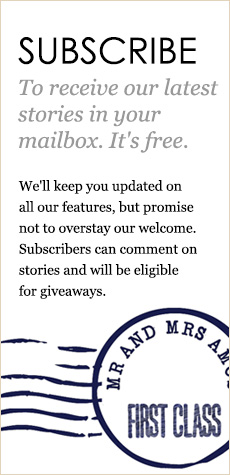 If travel
is about the journey, then I'd choose do it in a Bentley any day. And luckily, we get to take a Bentley on a spin every now and again when we're doing international road trips.
Last year, we drove a Mulsanne to Long Island, New York, for our story on the 'Gatsby' mansions. This September, we picked up a sexy new Continental GT V8 convertible for a four-day trip to Connecticut and Rhode Island, where we stayed at the exceptionally elegant Ocean House on Watch Hill, which is one of Relais & Chateaux's USA properties.
Our dear friend, Alfred Corn, a wonderful poet and novelist, suggested we visit him in Rhode Island, and recommended that we stay at Watch Hill, which is less known than nearby Newport, but is equally as popular with the wealthy East Coast elite, who have have summered there since the 19th Century. We're grateful to him for tipping us off about Ocean House and also to the pretty Connecticut town of Stonington, which sits across Little Narragansett Bay from Watch Hill.
Keen cinema goers will know Stonington from the Meryl Streep film Hope Springs. Like many of the coastal New England villages, it was once an active fishing, whaling and sealing hub. Now it's a yachtsman's paradise and its quaint 19th Century timber and stone houses are a tourist attraction in themselves. In recent times, the beautiful shoreline and delightful architecture of the village have attracted residents such as Pulitzer-prize winning poet James Merrill and Jaws author Peter Benchley.
With Alfred fitting rather snugly in the back seat of the two-door convertible (it's not really meant for long-legged passengers back there) we set off from Ocean House one morning for a drive to Stonington, where we had lunch at the quirky Water St. Café before strolling through the quiet out-of-season streets, many of them graced with stone or picket fences still overhung with late-summer blooms.
Alfred first came to Stonington in the summer of 1973 and then stayed in his friend James Merrill's house for the summers of 1977 and 78. (The James Merrill House on Water Street is now a museum and the home of a writers-in–residence program.) He befriended Grace Zaring Stone (1891-1991), the author of The Bitter Tea of General Yen, which was made into a film in 1933, starring Barbara Stanwyck and directed by Frank Capra.
Grace's daughter, Eleanor, the Baroness Perényi (1918-2009) who had been married to an Hungarian aristocrat and who was living with her mother, also became a good friend. The house they shared had a large garden, scene of many lunches. Grace was a friend of Noel Coward and Gore Vidal, and her other visitors included Truman Capote, Mary McCarthy and Stephen and Natasha Spender.
Eleanor, like Grace, was a remarkable woman, an author of several books, including a biography, Liszt and his Circle, and a perennially admired collection of essays about gardening, Green Thoughts. The Stonington garden was her haven and laboratory. Alfred showed us their house and we found that the gate was unlocked, so we were able to visit the garden, although it was in need of Eleanor's green thumb.
Mr Amos drove the Bentley back to Watch Hill. I can't drive, but I'm a great passenger and I'm really good at changing the presets on the radio. What we love about these Bentleys, apart from the supreme comfort (are we in a car or a hovercraft?) are the many clever details, such as his 'n her air temperature controls (I want 70 degrees; he wants 72) and indicators on the side mirrors. Not to mention the beautiful stitched interior leathers, which I'm constantly stroking. But I'm not much of a motoring critic: you can read more about the car here.
We said goodbye to Alfred at the Ocean House. Later, he sent us a copy of a poem he wrote when he was staying with James Merrill. We think his poem describes Stonington better than any prose I can fashion:
The Village
For James Merrill
Green tunnel through maples;
A bridge over twinned pairs of rails
Shunts the car right to the square.
Houses, high fence, where trumpet vines
Downspilling in jubilee
Herald today's parade:
Our Lady of Fatima, reverenced
Here in Azores Portuguese.
A white church looks on; the sunstruck
Brasses glitter and are gold.
Natural life wants form:
In their clipped garden two women
Smoke, review without surprise
The candidly outsize lilies,
Think back on Europe between
Two wars; they have discarded
The city (safe in quarantine
Down at the newsstand two streets
Over.) The milky, byword fog
Blows in, punctuated now
And then by dim C-sharps
Out past the breakwater, the gamut
Changeless as that half-ellipse
Fanlight cut under the gables
Of every Federal house
On Main or Water Street.
A summer visitor is lost
In the evening's gray dissolves
Among the blistered, drydock hulls
Of the indistinct boatyard.
He walks and takes his time
From the tempo of a harbor
Told by the metronome masts
Of sailboats made to balance at
Andante ma non troppo.
Old pilings—each crowned with
A comedic gull tiny whims set
Guffawing, head thrown back, maw
Wide and human—cannot translate
The water's calligraphic
Renderings of what they are:
But a mind at the very end
Of the pier identifies
With those mercurial gerunds,
Trembling, reflecting, darkening….
He will blink at weathered
Boards, the sumptuous disrepair
Of his nautical surround,
Where covered docks sag and molt, board
Wears down to a moiré grain
As gray as fog or thought;
Pass the gaspumps' stiff attention,
The chest marked ICE with ice-capped
Capitals; and like an old board
Himself, play softly down his kind,
A passage on wooden keys
Toward his interim house, the stardeck
Night will canopy with clear skies,
Galaxies, the bright dust of space—
At the last, a near, distinguished thing.
Alfred Corn
The fabulous people at Bentley loaned us the car. However, this post is not sponsored and, as always, reflects our own opinions.