Shore Thing
On deck at the Atlantic's loveliest beach resort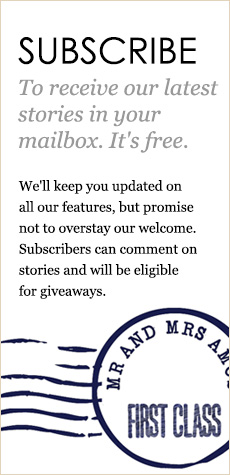 If you sit in a rocking chair
on the veranda at The Ocean House at Watch Hill, Rhode Island, it's very easy to imagine it's a century ago, when North Eastern families escaped the heat of cities like New York and Boston and fled to the breezy Atlantic for their summers.
The graceful old mansion with its colonnaded porches, dormer windows and turreted watch tower appears at first to be exactly as it might have been when it was built after the Civil War in 1868, except for a lick of yellow paint and a lot of maintenance. It sits in the grassy dunes of a private white sand beach that has changed little over the decades, complete with a croquet lawn and sheltered beach cabanas that suggest genteel another-era pursuits.
But, in fact, The Ocean House is a contemporary building or, at least, its modern incarnation is. In 2004, the old resort, which had even weathered the great hurricane of 1938, was torn down. It was not an act of vandalism: the hotel's dilapidation was mostly unrepairable.
The owner, Royce Funds CEO Charles Royce, had rescued the dilapidated hotel from a property developer. A long time Watch Hill resident, he was fearful that the  developer would turn the 11 acres into plots for ugly McMansions. Ultimately, he came to the conclusion that to save the resort, it needed to be demolished and then rebuilt from scratch, as close to the original as possible.
He planned a faithful replication of what had been there, using the most highly skilled craftsmen available. As much of the building that could be salvaged was saved and incorporated into the new build – all of the 247 windows are original, for instance. Five thousand artefacts in total were saved, cleaned and re-instored, including an old elevator and the original front desk.
Within this blueprint, the hotel was completely modernised, with the addition of a 1200-foot spa, an indoor lap pool and five restaurants added. The rooms were enlarged (159 rooms were reduced to 49) and the 16 Signature Suites were given state-of-the-art kitchens and ocean-view terraces.  The cost? A mere $146 million.
Watch Hill, which is the tip of a Peninsula poised between the Atlantic and Little Narragansett Bay, facing Connecticut, was so named because its 70-foot high bluff provided European colonists with a perfect vantage point to observe enemies approaching by water during the Revolutionary War. These days, American pop star Taylor Swift looks out over the ocean from the same spot, in her new home next door to the Ocean House.
Watch Hill was known as the 'poor man's Newport' although a friend of mine who lives in Rhode Island comments, 'I don't know what kind of poor you have to be to live here.' The surrounding mansions are very grand indeed, even if the village, which boasts the oldest surviving flying horse carousel in the USA, is more low-key.
Mrs Harkness had a blue plastic Buckminster Fuller geodesic dome built on the lawn, to the horror of outraged neighbours, who sued her.
In the great days of summer resorts, there was fierce competition between the hotels as to which had the finest orchestra, the most delicious food or the best baseball team. Guests were treated to balls, cotillions, lectures and sailing races. Families arrived with five or six live-in servants, including chauffeurs, nursemaids and butlers. Footmen stood behind every chair at dinner parties.
The history of The Ocean House is dotted with anecdotes about the eccentric characters who visited and lived there. Perhaps the most flamboyant was Mrs Rebekah Harkness, wife of owner William Hale Harkness, heir to the Standard Oil fortune, who bought the property in 1948 and installed 21 bathrooms. The very forward-thinking Mrs Harkness imported yoga guru BKS Iyengar to holiday there and teach her children yoga on the lawns. In the 1960s Mrs Harkness had a blue plastic Buckminster Fuller geodesic dome built on the lawn, to the horror of outraged neighbours, who sued her.
These days, the hotel still has a certain grandeur, even if there are not footmen behind every chair at The Seasons restaurant. The hoteliers have seamlessly combined the old and new – the restaurant, for instance, is situated in a beautiful Victorian wing of the building but serves guests modern cuisine, fashionably farm-to-table, using ingredients sourced from within 150 miles. The hotel is part of the Relais & Chateaux group so the menus, which included, while we were there, Narragansett clam stew maple glazed pork with caramelised Brussels sprouts, are thoughtfully devised and presented.
We stayed in the Lighthouse Suite, a two-bedroom apartment with ocean views and a large sundeck with furniture that included a covetable hammock for haute lazing. The suite was immaculate in every way, with a superbly equipped full kitchen and laundry that included Bosch and Miele appliances, and a spacious residential style living room with fireplace and a stylish purple circular sofa. Clever little touches included lavender pillow spray, flip-flops with the yellow-lined towelling robes, complementary jars of candy in the kitchen, and a bookmark tucked between the pages of my novel at turn-down.
The hotel is tech-savvy too, with each room featuring cell phone boosters, HD LCD flat panel televisions with multimedia connectivity, iPod docking stations with sound bar, fully-stocked iPads available with movies and other entertainment, and high-speed wired and wireless internet access throughout.
Down at the beach, there are seasonal Friday night clambakes at Dune Cottage, a pavilion restaurant built entirely of mahogany. There's a fitness centre and lap pool and four complimentary resort activities each day for guests. (Resort fees apply.) The hotel is open year-round and at Christmas time there's a tree-lighting ceremony and activities such as wreath making.
Mr Royce may not have known anything about the hotel business when he began this labour of love, but he has created a summer haven that is perfect in so many ways, elegantly recapturing the style and mood of yesteryear for modern, albeit well-heeled, vacationers.
The Ocean House : 1 Bluff Avenue, Watch Hill, Rhode Island 02891  Rooms and suites USD $600-$6000 per night. Seasonal specials and packages. For further inquiries and reservations, visit www.oceanhouseri.com
Mr and Mrs Amos were guests of The Ocean House and flew to New York on Hawaiian Airlines.