New York's luxed-up NoMad
No longer no man's land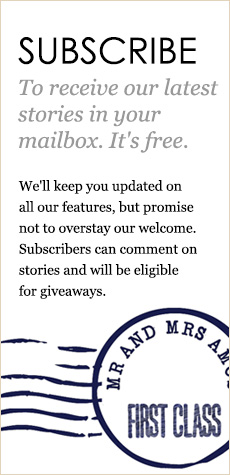 NEW YORK'S LATEST ACRONYM,
NoMad, has always been a bit of a No Man's Land.  Roughly extending north from 23rd Street to 30th Street, between Avenue of the Americas and Lexington Avenue, it has been not so much a neighbourhood but the lack of a neighbourhood, squeezed between defined districts such as Chelsea, Murray Hill, Gramercy Park and the office district of Midtown, which each have their own character. It was often referred to as 'the flower district', Flatiron or Madison Square Park, but these words weren't sexy in the way that, say Tribeca or Soho are. Half way between uptown and downtown, the drab little area north of Madison Square Park has badly needed rebranding.
In 2008, Andrew Zobler, the young Founder and CEO of property developer the Sydell Group was working on the conversion of the old Breslin Hotel on West 27th Street into what would be the groovy new Ace Hotel. He had also bought an old Beaux Arts building on nearby Broadway, which he had planned to turn into a romantic five-star hotel, in the Parisian style. Aware that this several city blocks full of ratty shopfronts selling wholesale jewellery, wigs and counterfeit perfume was hardly alluring for the kind of guests he hoped to attract to his upscale hotels, he started using the acronym NoMad (NOrth of MADison Park), which sounded both elegant and raffish. It stuck and now NoMad is Manhattan's latest hot spot.
The rehabilitation of No Man's Land had begun back in 2002 with the restoration of Madison Square Park, a scrappy plot of land above 23rd street that was once a potter's field, a juvenile detention centre and more recently a hang-out for the city's dispossessed. Now the spruced-up park boasts Danny Meyer's popular Shake Shack and, in autumn, EAT at Madison Square Park, a market of stalls run by local restaurants and providores held under the shadow of the Flatiron building.
The opening of the 275-room Ace Hotel in 2008 changed the dynamic further. The industrial-feel, lifestyle hotel became a sort of 'living room' for the neighbourhood, with its loft-style guest rooms, popular restaurants The Breslin Bar and Grill and the John Dory Oyster Bar, coffee shop Stumptown and scene-y lobby bar. Opening Ceremony, the smart Nolita (another acronym  for NOrth of Little ITAly)  boutique known for its curated collection of offbeat fashion and witty miscellany, moved into the Ace in 2010.
On nearby Fifth Avenue, celebrity chef Mario Batali launched Eataly, a megaplex of all things culinary from Italy, including restaurants, cafes, shops, a cooking school and a rooftop restaurant. Marimekko followed with a Flagship store. And now, the glamour factor has notched right up with the unveiling of Andrew Zobler's second hotel, the NoMad, an opulent boutique hotel that feels like the boudoir of a Parisian demi-monde, with swank interiors by Jacques Garcia, who was responsible for the lush decor of the Hotel Costes in Paris, and an elegant, lively restaurant and bar scene that is bringing the well-dressed and well-heeled to a corner that they wouldn't have been seen dead in a few years before.
The NoMad occupies a 1903 Beaux Arts building with beautiful curved corner windows and many original features intact, including the gorgeous ceiling mouldings and tiled floors. Jacques Garcia dimmed the lights in the lobby, brought in swags of black and gold velvet and flea market lamps from Paris, giving the public spaces a discrete, almost erotic ambiance, perfect for assignations.
The 168 guest rooms are evocative of a Seventh arrondissment apartment with reclaimed hardwood floors, velvet sofas and club chairs, tiled bathrooms, many with freestanding clawed bathtubs, and an eclectic and personal collection of ephemera on the walls, including old maps and photographs curated by New York/Paris based graphic studio Be-Pôles. The corner suites with their views along Broadway are truly lovely. It's a high-bohemian, nostalgic luxury you rarely find in New York, let alone on grungy Broadway.
The multiple restaurant features menus devised by Chef Daniel Humm of three-Michelin-starred restaurant Eleven Madison Park. There's the skylight lit Atrium for casual dining; the chic Parlour for lunch and dinner; The Fireplace (dominated by a 200 year-old fireplace that once belonged in a French chateau) for small groups; and the picturesque two-level Library, with spiral staircase to the mezzanine catwalk, for tea and cocktails, which segues into the Bar at night, a wildly popular new spot for the after work crowd. In summer, The Rooftop is open for lunch and dinner and the graceful cupola can be hired for intimate dinners.
The NoMad has undoubtedly given the neighbourhood its gloss. Adjoining the hotel is a branch of Maison Kitsuné, the uber-cool emporium opened in Paris in 2002 by the former art director of Daft Punk, Gilda Loaëc, and Tokyo-based architect Masaya Kuroki. The men's and women's wear boutique stocks WANT premium leather goods, Monocle and Aesop branded products and men's fashions from New York-based collective Bespoken. It's another world from the shopfronts selling tacky jewellery and crazy synthetic wigs that clutter these stretches of Broadway.
In many ways, though, it's the tawdriness that makes the district fun. If you need a multicoloured fright wig or a feather boa, look no further. On NoMad's upper reaches, at 32nd street, between Broadway and Fifth Avenue, there's Korea Town, a bustling block of neon-signposted barbeque restaurants that might have been lifted straight out of Seoul.  On weekends, around Sixth Avenue you'll find New York's flea markets, offering all kinds of treasure and trash. And how appropriate that the Museum of Sex chose Fifth Avenue and 27th Street as its location. If you hanker after a pink glitter dildo, this is the place.
From NoMad, you can walk uptown along Fifth Avenue, passing the Empire State Building, stroll across to Meatpacking and Chelsea or in the other direction to Gramercy Park, or to the Photo District and Union Square, or borrow one of the Nomad Hotel's bikes and cycle down to Tribeca. Suddenly No Man's Land looks like the most convenient place of all.