It's Muumuu Heaven
Take a sidetrip to an Hawaiian store that's 100% fabulous.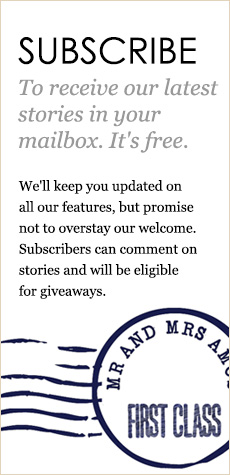 After Barack Obama's
maternal grandmother, Madelyn 'Toot' Soetoro-Ng, died in Hawaii just two days before her grandson's victory in the 2008 US Presidential election, Barack's sister, Maya, brought sixteen of Toot's old muumuus to her friend Deb Mascia, who set about having them cut up and turned into shirts, dresses, cummerbunds and bowties for the Obama family. During the President's inauguration, Barack, Michelle, and daughters Malia and Sasha, wiped away tears with handkerchiefs cut from fabric that was fragrant with the reminder of the woman who raised the President during his teenage years.
Nowadays, when the Obamas holiday each Christmas in Hawaii, they send for more clothes from Deb Mascia, whose thriving boutique, Muumuu Heaven, in the little village of Kailua, not far from Honolulu, is the hottest fashion store in the Hawaiian islands, beloved of Japanese fashionistas and Hollywood stars like Cameron Diaz and Eva Mendez alike. That's an impressive clientele, especially for a girl from Mount Waverley in Melbourne, Australia, who began her fashion career rummaging through thrift shop trash in search of old muumuus that she could refashion into modern skirts and dresses.
When we visited Muumuu Heaven, Deb was happily posing for photographs with Japanese shoppers, handing out leis and coupes of champagne, and modelling her own styles, every one made from repurposed fabric, much of it scrounged from charity stores, old warehouses, thrift shops, even dumpsters. Hilariously madcap, she is the sort of person who talks in capital letters, exclaiming and whooping with delight frequently as she shows us through her shop, a delightful, cloud-painted emporium of covetable clothes, accessories and home wares from local designers, all of it "100% Fabulous Recycled in Hawaii, handmade with aloha," as the labels boast.
"Every single thing in here was a hand me down or something I found myself," she explains, pointing out a sales desk made from a plank of wood she found in a truck ("I sanded it for six days until I had one arm longer than the other!'") and a wall covered in white-painted vinyl records ("polkas") claimed from someone's trash. She shows us a brown modular sofa that has seen better days, revealing with a twinkle that it was in Obama's bedroom when he was growing up. "Barack's sister and I have been friends for years. I used to say, 'God, Barack's such a weird name!' Barry was still bad, like Barry Crocker Barry Shocker! [An Australian reference] So I made fun of him."
Back in Melbourne, Deb's father owned a hardware store, which she credits with her ability to "fix up" things. Her parents were divorced when she was seven and she moved with her mother and brother to the Gold Coast. She wanted to go to Sydney's National Institute of Dramatic Art but couldn't afford the move to Sydney so got a job in "horrible tarty" dress shop before setting off on a round-the-world holiday with three girlfriends. She ran into her future husband, marine biologist/surfer from New Jersey, Eric Mascia, in Hawaii, walking down the street. "I woke up in California and bought a one-way ticket back to Hawaii."
Nowadays, when the Obamas holiday each Christmas in Hawaii, they send for more clothes from Deb Mascia.
That was nineteen years ago, and they travelled the world, living on sailboats and in kombi vans, doing such wildly disparate things as selling painted window frames in Byron Bay and working in corporate advertising in Manhattan, which she hated so much "I tried to get fired by stealing the Veuve Cliquot out of the fridge at lunchtime and getting wasted." But the clients liked her, so she had to resign in the end.
In 2002, the couple moved to Kailua and bought a "tear down house," which they fixed. The house has views to Coconut Island, which was used as Gilligan's island in the 1960's TV show.
Deb volunteered at the local thrift shop, where each day she'd have to throw dozens of unwanted old muumuus into the trash. She asked if she could take them home instead. She bought a sewing machine and taught herself the rudiments of sewing, turning the old fabrics into patchwork bedspreads and skirts. People kept asking her where she bought the skirts. "One day about seventeen people stopped me so I thought I better make more. I had a skirt party and displayed them all in my room. This girl came up and said 'Oh, my God, your bedroom is muumuu hell!' and I said, 'No, it's muumuu heaven!'"
Soon after, she wore a skirt to a charity function, where Eva Mendes saw it and bought it on the spot. "I put a sarong on and took my skirt off and gave it to her." She and Eric opened up a little business downstairs at home. It created such a buzz that "we woke up one morning and there were Japanese tourists at the bottom of the fence taking pictures of our dog."
The present Muumuu Heaven was opened in 2005 in a "messy little rathole that no one could find" at the back of a strip mall. It has since been extended and the business now has more than thirty employees. Every garment is made on the island by local seamstresses working at home. "I've taken women from horrible situations and now they have their own homes with flat screens and cars," she says.
Her styles were so popular with the Japanese she set up shop in Tokyo in 2010. "I was like a psychopath, horribly stressed all the time." Realising her son Zach, now eight, was suffering from lack of attention, she closed the Japanese business 18 months later. "I lost my life!" she exclaims in capital letters.
These days, she's casual about her most famous customers. "The last time they visited, Michelle Obama asked me to join them at the house to do yoga with them and I said 'I don't do yoga.' I'm such an idiot!" And then there was the email invitation from "M and B" for an event in Washington. "I wrote back and said, 'Thank you, but who are M and B?"
Muumuu Heaven makes a fun stopover on a drive to Oahu's North Shore. There are frequent book readings and exhibitions as well great shopping for unique pieces of menswear, womenswear, kid's fashion, homewares, jewellery and vintage. Kailua itself, a low-key community with a beautiful crescent-shaped beach, is worth a visit. We recommend dropping into Buzz's for one or two of his lethal Mai Tais (there's a two per person limit) – but after you visit Muumuu Heaven, otherwise you'll end up buying the whole shop.
MUUMUU HEAVEN is back after a brief closure, at 326 Kuulei Road #2 | Kailua, HI 96734