George Clooney Slept Here.
In praise of Venice's Cipriani and other glam abodes.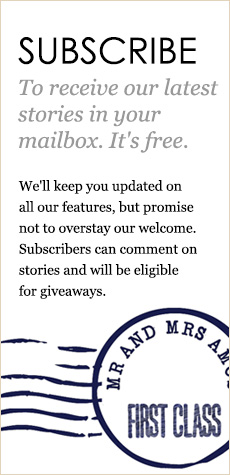 The best hotel
in the world is the one you don't want to leave. I've stayed in many places where I have slumped out of the entrance and into an airport-bound taxi with great reluctance. Part of this response, of course, is not so much about leaving the luxuries of hotel service but going home to beds that have to be made, meals that have to be cooked, and dust bunnies that have to be chased from under the sofas.
But a truly great hotel to my mind is not just a place where maids tidy up after you and a club sandwich arrives ten minutes after you've selected it from a menu on a touch-screen by your bed. Those two things are given in any hotel that has some stars after its name. I have a very strict set of requirements if a hotel is to be elevated to the category 'great.' But the most important one is this – while it plainly is not home, no matter how grand, the hotel needs to feel like home, a place you're not only reluctant to leave but one that you could happily move into.
I've felt this way about a few hotels over the years. The one hotel that had eluded me for years, though, was the famous Hotel Cipriani in Venice, which is situated on Guidecca island, a ten-minute motor boat ride from Saint Marco church, idyllicly distant from the crowds. I'd had Cipriani Envy for years, ever since I was a newbie at Vogue magazine and the travel editor stayed at the Cipriani so often she appeared to have taken up residence. It has taken me twenty-five years to get to stay there too, but it was worth the wait.
Is it the greatest hotel in the world? It might very well be. Granted, I experienced it at its best last April, ensconced as I was in the waterfront suite that is George Clooney and Robert de Niro's favourite (Clooney resided in the hotel for many summers and still mixes cocktails in the bar.) Lying in bed and wondering who else had slept there (Sophia Loren, Richard Burton, perhaps, but not together?) gave the experience an extra charge of excitement.
I'm aware that grand European hotels are not to everyone's taste or budget. But let's go with the fantasy. If I had the wherewithal to spoil myself for a few days, what would I demand of a hotel to make the experience great?
There are some wonderful new hotels – New York's The Whitby Hotel comes to mind – but I do love a hotel with a sense of history and romance: Raffles in Singapore, L'Hotel in Paris, where Oscar Wilde lived and died, the intimate Lancaster, also in Paris, where Marlene Dietrich lived for a while. These are hotels that celebrate and preserve their heritage, where you can almost hear Noel Coward louchely tinkling on the ivories (The Lancaster) or inhale the trail of perfume a French queen (Pavillon de La Reine, Paris) left behind.
A fabulous location certainly helps. The Cipriani is right on the lagoon, and the hotel's zippy little motor boat, with its velvet seats and mongrammed curtains, makes getting across to the other side of the canal more exciting than a trip to a fun fair.
The extraordinary Nimb Hotel in Copenhagen is situated right inside a fun fair, the famous Tivoli Gardens, the world's second oldest amusement park. When I stayed there recently, I could see the Tivoli's exquisite Peacock Stage, where they have held delightful pantomimes since 1874, from my window. The Nimb's 14 guest rooms are Scandinavian chic, but it's the hotel's unique location made the experience great.
Service that's beyond efficient is key. I love being greeted formally (And why not? No one does it at home) but I loathe snootiness. In the great hotels, you can ask anything of the concierges and they treat it as the most reasonable request in the world. The concierges at the Cipriani delighted in helping me arrange a secret visit to the Fortuny factory for Mr Amos, and kept it hush.
You'd be surprised how often a hotel that's otherwise great falls down on the details. I'm obsessed with hotel linen. I'm fond of the cool, crunchy, oldfashioned embroidered linens you find at hotels like the Cipriani. The revamped Peninsula in Hong Kong has the sleekest, silkiest, striped million-thread-count sheets I've experienced. If you don't notice how wonderful the sheets are, they're not good enough.
A great hotel must have huge bathrobes, giant towels, loads of smaller towels and hand linens, and thoughtful amenities like really beautiful soaps. I don't really need all these towels and, conscious of the environment, I don't use them, but I find myself wandering around the bathroom stroking them and marvelling at their whiteness.
And there should be extra touches – at the Cipriani, the maid arrived unbidden with a towelling bath pillow, so I could be comfortable in the deep bath (also essential.) The Cipriani also kindly provides you with a candelabra and matches in case you'd like to bathe by candlelight.
I love being greeted formally (And why not? No one does it at home).
As a woman travelling, I get very annoyed when I check into a hotel that's perfect in every other way, except there is no facility to do one's makeup. Magnified makeup mirrors are essential. Quite simply, a hotel can't be great if it hasn't thought of its female guests.
And let's talk about other practicalities. A great hotel has electric sockets where you need them (so simple, but often so wrong) and lights that have switches, or, in the case of Hong Kong's Peninsula, such amazing technology that a complete fool could operate it.
I want gorgeous writing paper. I also want a discreet housekeeping service that makes up your room the minute you step out of it so that you never have to come back to an unmade bed. (Another pet hate.)
All great hotels have superb gastronomy, most important in those hotels that are not in cities. I don't always eat in a hotel's dining room, but I take my breakfasts there, slowly, and often don't leave until it's time for lunch. At Le Meurice in Paris, dinner in the gilded Versailles-style Le Restaurant will cost you a pantalooned arm; breakfast less so. The Cipriani scored highly here – an extraordinary buffet is served, with several types of fresh juices, artisanal breads and cakes, homemade preserves and local honeys, a table of meats and cheeses and one of fresh fruits, and endless cups of espresso. (And, brilliantly, such an extravagant breakfast is included in the room rate.)
I have other requirements – a really fabulous bar, like the opulent Bar 228 at Le Meurice, or a great swimming pool like the one at Le Bristol in Paris, which has views over Sacre Coeur and is fashioned like a yacht, and a proper spa like the excellent Nordic Spa at the Grand in Stockholm. (Steam, sauna, dip yourself in a cold plunge pool and recover by an open fire.) The Cipriani's enormous outdoor pool is the largest one in Venice and heated in winter, so that mist rises off it in the crisp venetian mornings. Could it be more romantic?
I don't mind at all if the hotel sends the Bentley (Raffles) or the Rolls Royce (Peninsula) to pick me up from the airport.
And, naturally, I love a great lobby, a place where you can sit for hours and watch the (fascinating) crowd go by. The Peninsula Hong Kong, Le Meurice Paris (although you may be swamped by an African delegation), and Claridges in London are just three hotels where I could happily set up camp with a cocktail or cup of tea (in the finest china cup.)
But in the end, it's all about character.
One of my favourite hotels in the world is The Greenwich in New York, co-owned by Robert de Niro. The Greenwich is a Spanish/Italian palazzo built over what was an old parking lot in downtown Tribeca. I lived in this neighbourhood for six years, so the hotel has an inbuilt hominess for me, but what I love most about it is that actual people have created this hotel, not a design studio attached to a corporation. It has masses of character – tough to pull off in a new hotel – from the different Moroccan tiles in each bathroom and the comfy drawing room where you can dine on great food from bistro Locanda Verde next door, slumped in deep velvet sofas by a fire, to the intriguing, authentic Japanese spa and pool in the basement. It may not have real history, but it has created it, pulling together remnants from great old buildings like the Flatiron.
There's a new Penthouse opening soon and if I won the lottery I'd take up residence there like a shot. In the summer months, I'll move to Venice and fight Clooney for that suite.
Like all great hotels, The Greenwich and The Cipriani feel like home but are not home – yet.