The Great Gatsby Mansions
The Long Island homes that inspired F.Scott Fitzgerald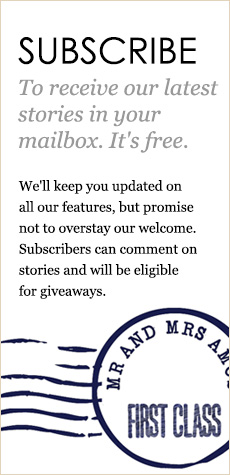 WHEN BAZ LURHMANN
chose a location for the new movie version of F Scott Fitzgerald's The Great Gatsby he decided to shoot the film in the stately homes of Sydney's Eastern Suburbs, rather the grand mansions of Long Island's 'Gold Coast', the setting for Fitzgerald's classic 1925 novel about a mysterious bootlegger and his passion for a mercurial young flapper.
Lurhmann's version of Gatsby was probably always going to be more riff than reality, but they're not happy about it out on Long Island. It's not the first time a Gatsby movie has snubbed the landscape where Fitzgerald lived and wrote. (The 1949 Alan Ladd version was pure Hollywood and the 1973 version, starring Robert Redford, was filmed at Newport, Rhode Island.) After all, locals point out, many of the mansions Fitzgerald partied in are still standing today, some as lavishly furnished as they were when the Jazz Age was in full kick.
Fitzgerald's fictional townships of West Egg and East Egg are based on real-life Kings Point and Sands Point on the north shore of Long Island Sound, the channel of water that separates New York from Connecticut. At the beginning of the 20th Century this pretty coastline, peppered with the country estates of wealthy industrialists, transport magnates and bankers, boasted one of the greatest concentrations of wealth in the US.
Eventually fortunes were lost or squandered and the suburban sprawl encroached on the original 1200 estates, leaving many abandoned, razed, redeveloped or donated to various counties. But of those that remain, some of the most glorious have been frozen in time, down to the smallest detail of how the original owners lived – books left on bedside tables, tea settings in the parlour, limousines in the stables –  allowing the visitor full immersion in Gatsbyism for a small entry fee.
All this opulence is less than an hour from New York City and serviced by the Long Island Railroad. But you do need a car with GPS to explore the ragged coastline, unless you have a yacht on hand to sail in to the private moorings as the original owners once did and many of the privileged still do.
We pick up an elegant Bentley Mulsanne in Manhattan, as it seems the thing to do. (Gatsby drove a Rolls, but they're equally swank.) Driving to Long Island from Harlem, we pass through what Fitzgerald called the Valley of Ashes, to this day an industrial wasteland of factories and garages. Soon we're in the suburbs, simple homes at first, later the gated communities that quarantine the better neighbourhoods.
It's only when you get closer to the coast that the properties become more substantial, hidden behind stone walls and iron gates, with long driveways that occasionally give a tantalising glimpse of a turret or chimney.  It's rural in parts, with horses grazing behind white picket fences, and shady winding roads that come to a halt at traffic lights in historic villages like Huntington and Oyster Bay with their well-preserved clapboard houses and steepled churches.
Our first stop is OHEKA Castle, which is the largest private residence in America that is lived in all year round by its owner, and also a boutique hotel. (Appropriately, we check into the Gatsby Suite.) The 127-room turreted chateau-style building once occupied 443 acres with its own 18 hole golf course, 10-car garage, working farm and dairy, indoor pool, airstrip, racetrack and formal gardens with classical statues and reflecting pools, which were designed by the renowned landscapers, the Olmsted brothers, sons of Central Park's architect Frederick Law Olmstead.
Dapper German-born banker and philanthropist Otto Herman Kahn, who built his castle in 1917 (OHEKA is an acronym of his name), is one of the models for Fitzgerald's Gatsby it is said. The gregarious Kahn was shunned by New York society because he was Jewish. (He financed the restoration of the Metropolitan Opera House but wasn't permitted to sit in any of its boxes.) He built his castle on the highest point of Long Island so that he could look down on the people who excluded him.  It took two years to bring in enough dirt to make the land higher than nearby Jane's Hill.
He created a Jews-only Country Club, which remained that way until 12 years ago, and the Cold Spring Harbor railway station. Then he set about throwing parties and entertaining on a scale that outshone the Astors and their set. His 'zoo', as his less sociable wife called it, included guests George Gershwin, Douglas Fairbanks, Harpo Marx, Dorothy Parker, Enrico Caruso and his great friend Charlie Chaplin, who stayed many times. There were even circuses from time to time, with the elephants kept in a breezeway under the house.
KHAN WAS SHUNNED BY NEW YORK SOCIETY BECAUSE HE WAS JEWISH. HE BUILT HIS CASTLE ON THE HIGHEST POINT OF LONG ISLAND SO THAT HE COULD LOOK DOWN ON THE PEOPLE WHO EXCLUDED HIM.
Otto lived and died in the fast lane (a heart attack at 67) and in 1939 the house was sold to the New York Sanitation Department for a recreation and rest centre for its workers. All the contents were stripped and rare volumes of books, tapestries and statues were lost. During the war it was a school for maritime radio operators and later a military college. In 1979 the college closed its doors without locking them. OHEKA was ransacked by vandals who took anything of value including the fireplaces. Later, vagrants took up residence and fires were repeatedly set inside and then put out with water, creating black mould, which spread everywhere, including over the 37-foot high ceilings of the ballroom.
Gary Melius, a Long Island property developer, rescued the building in 1984, buying the ruined shell for $1.5 million and spending $30 million over the next twenty years in a labour of love that has restored OHEKA as closely as possible to its former glory. Melius lives in one wing of the mansion while the other wing has been transformed into a hotel with 32 guestrooms and suites, which helps a little to offset the massive costs of running OHEKA. Channelling Otto Kahn, Melius is an affable and generous character who often appears at dinner time to greet to guests and interrogate them about what they think of his ruling passion.
The castle's main income is derived from bar mitzvahs and weddings, which are more lavish on Long Island than anywhere in America, according to Gary's daughter Nancy, who is the driving force behind an initiative to market the mansions of the 'Gold Coast' as a group. For a recent wedding, the ballroom was turned into an ice palace complete with an enormous bar entirely carved out of ice and imported specially from Canada. (Otto would approve of such extravagance.) Revenue is also raised from renting the property for commercial photography and film and TV productions. Way back in 1940s, OHEKA was used as the exterior of Charles Foster Kane's Xanadu in Citizen Kane and in recent times it has been the location for US TV drama Royal Pains, Gossip Girls and countless magazine and catalogue shoots.
Our next destination is Eagle's Nest at Centerport, the 43-acre estate of William Vanderbilt II, the grandson of the transport tycoon, Cornelius, who started the Staten Island Ferry. Cornelius's son, William I, inherited so much money he was wealthier than the US government, but spent like a drunken sailor and the Vanderbilt fortune dwindled down to a 'mere' $20 million by the time William II inherited.
A lover of fast cars and exotic destinations, Willie sailed the world, collecting natural history specimens and anthropological artefacts and completed two circumnavigations of the globe, including a scientific voyage to the Galapagos Islands. He built the Eagle's Nest as a summer house in 1910, in a highly eclectic style based on the church architecture of Latin America, eventually adding a marine museum, a planetarium and a natural history museum that display the specimens from his travels in exquisite dioramas painted by James Perry Wilson, who painted the background scenes in New York City's marvellous Museum of Natural History.
Eagles Nest a wondrous place, with lawns tumbling down to a sparkling waterfront. The two-storey Marine Museum, built in 1922, remains exactly as it was when it first opened its doors, even to the original formaldehyde yellowing in the glass jars that house the thousands of specimens of sea life Willie collected. The Natural History Museum on the lower level has been restored so that the nine dioramas and their contents are exactly as they were when Willie's guests wandered through in the 1930s. (The dioramas are remarkable for containing real animals, birds and fish, not cast objects, as is the case in other natural history collections.)
WILLIAM I INHERITED SO MUCH MONEY HE WAS WEALTHIER THAN THE US GOVERNMENT, BUT SPENT LIKE A DRUNKEN SAILOR AND THE VANDERBILT FORTUNE WHITTLED DOWN TO A 'MERE' 20 MILLION.
Because Willie willed the property to Suffolk County upon his death in 1944, along with all its contents, including its furnishings and his remarkable collection of rare ethnographic, military and nautical artefacts, the interior of the house remains a time capsule, as if Willie, his family and servants, had simply gone out for the day on a sailing excursion.
Old Westbury Gardens and House was the country estate of steel magnate John S. Phipps, who built in a Charles II style for his homesick British bride. The 40-room, 22-bathroom mansion set on 70 acres was constructed in 1906. It was the spring and autumn residence for the conservative, cultured Phipps family over 50 years before it was opened to the public, administered by a private trust. As with the Vanderbilt mansion, the Phipps' house contains the opulent original furnishings and art works that belonged to the family, including a John Singer Sargent portrait of Jay's mother, works by Sir Joshua Reynolds and Jay's precious collection of Asian art.
What's most lovely about the house, though, are the personal touches – the high tea settings in the White Drawing Room, the many portraits of his wife and four children hung around the house, Jay's library (with a secret compartment for his Stradivarius), the porcelain birds given to the Phipps by the 30 English children that took refuge there during WWII, and the stuffed tiger Mrs. Phipps shot on her honeymoon in India.
The splendid, immaculate gardens and house were designed by British architect George Abraham Crawley.  You could happily spend hours here, picnicking by the lake, which is dominated by flocks of geese, roaming through the English walled garden vibrant with primroses, tulips, lilies and fragrant David Austin roses in summer or meditating by the lily pond in the elegant Italian garden. About 60,000 visitors enjoy the gardens each year but, once again, it is film production and wedding receptions that provide the funds that maintain the estate. Old Westbury Gardens has been a location for more than 45 feature films, including North by Northwest and Love Story and most recently the wedding scene from Hitch was shot in its grounds.
I imagine it's bride gridlock on the North Shore in June. At our next stop, Coe House, set in an immense 409 acres of gardens, greenhouses and woodlands known as Planting Fields, we come across two Chinese wedding parties, each bride taking turns to be photographed on the steps of the imposing 67-room Tudor Revival mansion. The Planting Fields grounds are so vast we have no luck finding the life-size model of Noah's Ark, which was there for the filming of Russell Crowe's Noah. Sadly, during hurricane Sandy, the property lost several magnificent old trees.
The Guggenheim estate on Sands Point Preserve (Fitzgerald's 'East Egg') probably most exemplifies the excesses of the Gatsby era. The 350 acres were bought in 1901 by Howard Gould, son of railroad tycoon, Jay Gould, and on it he built a 100,000sq ft castle in the style of Ireland's Kilkenny Castle. Displeased with it when it was finished, he used it as stables for his horses. He then built another residence on the property, now known as Hempstead House, in the style of a Tudor manor house, with 40 rooms and a vast lawn sweeping down to the Sound.
In 1908 his wife ran off with Buffalo Bill Cody and he sold the property to Daniel Guggenheim, of the eminent textile and mining family. In 1923 Daniel gave 90 acres to his son Harry, who wanted his own castle, and built a medieval manor known as Falaise on the bluff above the sea. Also on the estate is a waterfront country manor known as Mille Fleurs, which was built for Daniel's widow.
Falaise is the most interesting residence at Sands Point. Filled with rare religious artefacts and heavy medieval furnishings and tapestries, it too has been maintained precisely as Harry left it, down to Minton china in the dining room and the den full of trophies that Harry's race horses won. The dashing Harry was ambassador to Cuba during the Hoover administration and a navy pilot who served in two World Wars. Keen on aviation, he was a great friend of flyer Charles Lindbergh, who stayed there often and wrote his book 'We' in the guest bedroom.  (Lindbergh's old car is still parked in the garage.) A significant number of eminent Americans passed through the doors, but these days Falaise piques people's interest for the fact that the famous severed horse head scene in The Godfather was filmed on Harry's bed.
If you want to complete the Gatsby experience, you can drive (or preferably be driven) back to New York City and stay at the Plaza Hotel where the Gatsby characters party in a crucial scene. I suggest a Sidecar in the Oak Bar to make the whole experience 'top drawer.'