Ireland's Rockstar Beauty
Lose yourself in The Burren's award-winning food trail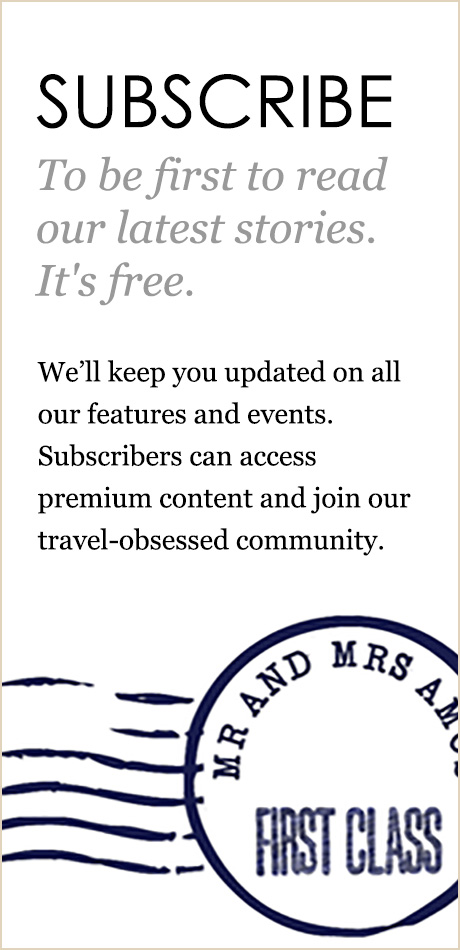 There's a corner
of the wild Irish coast that's known as 'the great rock'. That's typical Irish understatement. The Burren in County Clare is much more than a rock – stretching over 530 square kilometres, it's a dramatic limestone landscape like nowhere else.
It's windswept, eerie and romantic, recognised by UNESCO as one of the world's most significant geological and historic sites, with more than three thousand natural and manmade monuments, an environment relatively untrammelled by human feet.
It's also a culinary destination that has been, until recent times, one of the world's best kept secrets. Biologically rich with wetlands, grasslands and peaty soil, featuring over 700 species of plants and ferns, the rock has been host to generations of farmers, who have sustainably grazed their livestock on its slopes for centuries. Now a burgeoning food scene, focussed on high quality organic produce and sustainable farming practices, has sprung up throughout the villages that lie within the Burren.
In 2012, a collective of more than twenty local farmers, fishermen, chefs and producers got together and created The Burren Food Trail, which won the 2015 European Destination of Excellence (EDEN) award for tourism and local gastronomy, and Foodie Town of Ireland 2015, impressive accolades for a remote little corner of the world.
The moody landscape from which both J.R.R Tolkien (Lord of the Rings) and C.S Lewis (The Lion, The Witch and the Wardrobe) took inspiration.
The Food Trail is part of a community-based ecotourism network, created to attract visitors to the moody landscape from which both JRR Tolkien (Lord of the Rings) and C.S. Lewis (The Lion, The Witch and the Wardrobe) took inspiration, but without leaving any trace on the fragile ecosystem.
County Clare's most famous attraction is the dramatic Cliffs of Mohr, which lies at the southern part of this windswept fragment of the 'Wild Atlantic Way', a 2600 km sign-posted route from Derry to Cork. Until now, the closest many visitors get to the 'great rock' (the meaning of the word 'burren') is staring at it out a coach window.
But the coaches are bypassing something considerably more magical, if less showy: one of the world's finest examples of glaciated karst, a limestone landscape with a network of underground rivers that dissolves the stone into caves and passages and erodes the surface into surreal cracks and fissures. Giant sheets of ice moving across the region 25,000 years ago threw up 'erratics', boulders that now picturesquely rest upon each other like sculptures created by giants.
The hauntingly beautiful landscape features treeless limestone hills, pristine woods of twisted hazelnut and hawthorn, deep caves, disappearing lakes, centuries-old fieldstone-fenced laneways, and monuments such as holy wells, crumbling medieval abbeys and churches, Martello towers, abandoned farmhouses and Neolithic burial sites.
This romantically bleak walker's paradise is an unlikely foodie destination. But for generations it has been known locally as 'the fertile rock' and dairy farmers have sent their cows to graze on the upper slopes of rock each summer. Both farmers and fishermen there have always farmed sustainably as custodians of the environment, which is biologically rich with wetlands, grasslands and peaty soil and a diverse range of species, from the Pine Marten (which is almost extinct elsewhere) to thirty species of butterfly and 700 different flowering plants and ferns.
Ireland is free of GM crops and much of the farming is still a hands-on business with a continuous line between generations of farmers.
The coast provides samphire and various kelps and the fields are a forager's heaven, with nettles, brambles and many other edible plants. Organic farms and community vegetable gardens are blooming, such as those initiated by local hero, world famous big wave surfer Fergal Smith, 26, gave up his touring life as a pro surfer to spread the message about sustainable growing.
In recent years, the international Slow Food movement has given new credence to traditional practices of farming. Luckily, as it turns out, modern industrialisation didn't reach this corner of the world. Ireland is free of GM crops and much of the farming is still a hands-on business with a continuous line between generations of farmers.
'We are still a very agricultural society,' says Swedish-born Birgitta Curtin, who established the Burren Smokehouse three deacdes ago with her husband Peter and is one of the movers and shakers behind the nine year-old Burren Slow Food Festival, a foodie Pow Wow held each May. 'Only a generation away people ate very well. All our food was fished or shot.'
Donal Monaghan, whose handsome, pampered sheep spend their lives freely grazing lush pastures near the Flaggy Shore, produces Gleninagh Lamb, grass-fed meat on many Burren Trail menus. His flock has been vaccine-free for twenty years. 'The gene pool goes back to my grandfather's time,' he says. The difference between his grandfather's day and his is that 'more and more people want to know where their food is coming from.'
The Burren Food Trail is designed to encourage visitors to follow the path food takes from paddock to plate. It includes quite a few paddocks – visits to pig, sheep, goat and dairy farms, as well as ice cream and cheese makers, a smokehouse and a chocolatier, gastro pubs and family-run restaurants. What connects all the dots is a 'Customer Promise' that staff are knowledgeable about regional food and local food events, that the menus will state the source of local produce, and that there's a commitment to using as many local ingredients as possible in all prepared food.
The delightful and garrulous locals are as much an attraction of The Burren as its astonishing rocks.
The trail can be followed geographically, or visitors can dip in and out along the route. The printed map is readily found at pubs, restaurants and hotels throughout the region, or downloading it from the internet.
Unaided, you're unlikely to discover the walking path along the pretty Finnavarra Peninsula that leads to the dairy farm and cafe run by Brid and Roger Fahey, who produce delicious ice cream from their rich cows milk. Or stumble across Eva and Stephen's small pig farm, Burren Free Range Pork, where sausages and bacon are sold at the farm door. Or track down Oonagh O Dwyer, who'll take you on an unforgettable foraging expedition.
Handily, GPS coordinates are listed for each member but if you're still lost, stop at any pub for instructions. You may not get out of there under an hour, but eventually you'll leave with something like a plan. The delightful and garrulous locals are as much an attraction of The Burren as its astonishing rocks.
Visit any member of the trail and they're likely to give you five recommendations for other places to stop. To do it fully, you could be happily entertained and well fed over the course of a week. Do try to combine the trail with a walking tour into the depths of The Burren itself. Or perhaps a ferry to the nearby Aran Islands, accessible from the village of Doolin.
Try, if you can, to leave a trail of crumbs behind you. Once inside The Burren, you may need rescuing – you may never want to come out.
FOODIE HIGHLIGHTS
Head chef Robbie McCauley presents the finest, most creative cooking to be found on the Trail in this 17th Century manor house hotel, adjacent to the castle that once belonged to the Prince of Burren. Gorgeous views of the Burren from the elegant dining room; produce drawn on local and foraged foods including seaweed, wild garlic and hazelnuts.
Siobhan Ni Ghairbhith took over this family goat farm in 1999. Since then St Tola raw and pasteurised cheeses can be found on most local menus. Visitors are welcome to the farm, with its 200 friendly Sannan high-yield goats and farm door sales – in February the property is overrun with kids.
Eva and Stephen Hegarty love their rare breed British Saddleback pigs so much, they've converted an old horse trailer into 'glamping' accommodation so that visitors can stay right next door to the stys and enjoy the pigs too. The high quality pork and sausages are available at the farm door and at local markets.
This lively pub-restaurant, occupying a 300 year-old whitewashed cottage, is situated right on Galway Bay at New Quay. Naturally, the lobster with garlic butter is a highlight but the fresh clams, crab cakes, scallops and mussels are superb too. Personable owner Vincent Graham is a former world champion oyster shucker.
The Burren's biggest success story is the smokehouse in Lisdoonvarna, which supplies cold and hot smoked salmon to some of the world's most famous food retailers, such as Fortnum & Mason. Established in 1989 by Peter Curtin and his wife Birgitta, who heads up the local Slow Food movement, there's a visitor centre and well-stocked store selling artisan foods.
The Tavern has been in the Curtin family since 1865 and its loquacious proprietor, Master Brewer Peter Curtin (also owner of the Burren Smokehouse next door) is a passionate lover of the Burren and driving force behind the annual Tolkien Festival. He brews his own lager, ale and stout while the tavern's bistro, Kieran's Kitchen, produces hearty, locally sourced pub grub.
In summer and on winter weekends, follow the walking track along the shore of Galway Bay near New Quay, to the simple little Cafe Linnalla, set among the happy shorthorn cows of Brid and Roger Fahy's dairy farm. The family has been making natural, preservative-free ice cream since 2006, experimenting with the flavours of foraged plants such as blackberries, gorse, sloes and elderberry.
This homey restaurant in a former stonecutter's cottage is a welcome stop on the route to the Cliffs Of Mohr. Chef Myles Duffy, a member of the local coastguard, prepares delicious, wholesome dishes such as Beef and Guinness Stew and Seafood Chowder while wife Karen Courtney works behind the scenes; the restaurant recently won the Best Family Friendly Restaurant in Ireland for 2016.
Tag along with Oonagh O'Dwyer while she scours the seashore and bramble-lined laneways for wild plants, grasses, seeds and seaweed and then picnic on some of the delicious treats she's made from foraged produce, such as crunchy dilisc chips and wild flower cordial. Oonagh holds pop up food events in her seaside kitchen from time to time.
ROCKING THE BURREN
The Cliffs of Mohr
This heart-stopping 8 km stretch of limestone cliffs, rising to 204 metres at their highest point, is Ireland's most visited natural attraction. The heritage centre, viewing platforms and exhilarating clifftop trails make this a must-visit; especially lovely at twilight.
Doolin Cave
Twenty-five metres below the Burren's limestone pavement lies the longest free-hanging stalactite in the Northern Hemisphere, 7.3 metres in length. There's a 120-step descent into the cavern to view the illuminated calcium chandelier and, above ground, a cafe and farmland nature trail.
The Flaggy Shore
Stretching from the village of New Quay to the Martello Tower overlooking Finvarra Point, this dramatic peninsula is strewn with glacial erratics, including pink granite, purple sandstone rocks and grey limestone flags, topped with curious rounded boulders. The flat limestone pavement is embedded with fossils. The drive is spectacular: find a spot to pull over and walk along the shore.
Burren National Park
Deep inside The Burren there are five marked walking trails with various levels of difficulty. Some lead to exceptional vistas, others take hikers through unspoilt woodland. Most pass by the ruins of medieval castles, abbeys and tombs and some Neolithic structures, such as Poulnabrone, one of Ireland's most recognised sites. You could spend weeks getting lost here, so stop in at the Visitor Centre near Corofin for maps.
It's not a geographical feature, but it rocks. This 150 year-old festival draws crowds of 20,000 people during the month of September. It's truly weird – there's a matchmaker on hand but mostly it's a wild free-for-all, with dances and street parties each night, attracting participants of all ages (but mostly middle-aged and older.) You know it's happening by the campervans fill the carparks. The last weekend is 'the outing' for LGBT revellers.
STAY
The Wild Honey Inn, Lisdoonvarna. An immaculate conversion of a corner hostelry into a really stylish 14-bedroom B&B, with an excellent bistro headed by chef Aidan McGrath, former head chef for Marco Pierre White.
FURTHER INFORMATION