Guesthouse Rules
The oldfashioned pleasures of doing very little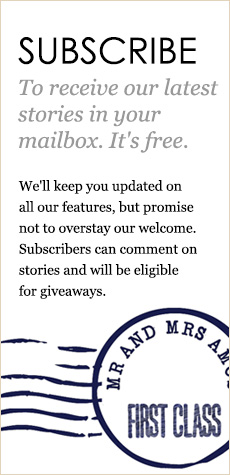 I love guesthouses.
Before small hotels were 'boutique' and their restaurants were hatted and starred, there were simpler places to stay, big country houses on rambling estates, where the meals were included with board and kids ran wild with quoits and badminton racquets.
Guesthouse holidays weren't luxury holidays for the few but for the many, places where whole families, grandparents through to babies, could afford to stay at for weeks at a time over summer.
My grandfather would take our family to a guesthouse at Cowes on Phillip Island in Victoria, Australia, for the Easter holidays. I can't remember the guesthouse name, but I recall a big sprawling place, possibly fibro and timber, with a communal dining room where we would eat at precisely set times and all get the same thing. No room for vegetarians or fussy eaters – you had the battered flathead or you had nothing.
It was simple fare but to this day I remember the chocolate custard they served. I'm not sure anything has tasted better since.
We went down to the beach or spent time with our heads in books, or drawing, or playing cards with our parents. We kids soon made friends with strangers because we had to, or otherwise we'd never get away from the adults. Sometimes you made a friend for life.
It was all very rough and tumble, maybe not that dissimilar to the crazy little seaside hotel in Jacques Tati's Mr. Hulot's Holiday, with its eternally squeaking flyscreen door. I'm certain the beds weren't made up with 300-count Egyptian cotton sheets. It didn't have a swimming pool or a water slide or even a television. We didn't care because we didn't know any better and it was just fine. Bliss, in fact.
Modern kids would probably turn up their precocious noses at board games or doing anything with their parents. But deprive them of their electronic devices and I bet they'd have a ball mucking around with Chinese Checkers and Boules once they got over their sulks. (They might even be encouraged to play Scrabble.)
With its wide verandas, lush lawns and gracious hospitality, Bells harks back to the era of the great guesthouses.
The 'slow travel' that the classic guesthouse experience offers is back with a vengeance in our anxious decade. Luckily there are plenty of modern hoteliers out there who share a passion for the slow week or weekend ensconced in a chair on a veranda with a book, either paper or electronic. Alla Wolf Tasker of The Lake House in Daylesford, Victoria, is one, as are Karina and Brian Barry and Stefano Manfredi, the team at Bells at Killcare, which is tucked away on the Bouddi Peninsula just ninety minutes from Sydney.
We recently spent the weekend at Bells, which is set in hectares of gardens a short drive (or walk) from several ravishing beaches. With its wide verandas, lush lawns and gracious hospitality, Bells harks back to the era of the great guesthouses, although these days quality and serenity come at a premium.
The Bouddi Peninsula on the Central Coast is one of those secret places that I'm loath to reveal. It's not far from the amusingly named Woy Woy, the small town where the zany genius Spike Milligan often visited, a place one drives through to get to the popular coastal beaches of NSW's Central Coast.
The northern coastal sprawl around Terrigal tends to the ugly, which is why the Bouddi Peninsula and its sleepy seaside villages Hardy's Bay and Wagstaffe, comes as such as delightful surprise.
The Bouddi National Park was established in 1922 when the forward-thinking solicitor and bush walker Marie Byles persuaded the NSW government to reserve it for public use. The 1500 hectares of park includes forests of spotted gum, scribbly gum, red bloodwood and forest oak and some spectacular sandstone cliffs and escarpments, which contain more than one hundred aboriginal sites, rock paintings and middens. From the Marie Byles Lookout you cans see Barrenjoey Head and Palm Beach, which can be reached by ferry.
Bells is discretely located down a driveway from the main road.  The single-storey main house sits on a beautiful lawn where guests can play boules or croquet, or loll about in Adirondack chairs. There's a swimming pool and a sustainable cottage garden, which supplies the restaurant with more than 15% of the produce on its menu. Inside, the bay windows contain a lounge has a fireplace for the cooler months stocked with lots of books and boardgames, and a fine dining restaurant with a wide veranda for alfresco breakfast, lunch and dinner in the warmer months.
It's very convivial, different to a hotel where guests usually keep to themselves, although privacy is certainly an option. What I like most about staying in a place where guests are mostly thrown together at meals, in the library and by the pool, is that it only works if you're civil to each other, keep the children in check, don't play excruciatingly loud doof doof music from your veranda and don't get plastered and screech around the pool.
What I noticed was how many guests lingered over breakfast with an actual newspaper. I didn't see anyone take a selfie. The wifi was a little temperamental so I was forced to detach myself from Twitter. I read an entire novel in two days.
The Sunday Feast is a big event here, with set Tuscan-style menus including what's seasonal.
Accommodation includes studios, suites, villas and cottages, all done up in variations on the universal beach house style I would call Hamptons.  We stayed in an immaculate one-bedroom cottage with a veranda on each level, a daybed downstairs in the sitting room, a gas fireplace for the cooler months, polished timber floors, an enticing slipper bath in the upstairs ensuite, a small kitchen, plenty of big sofas and lounges for lolling, and cable TV for those evenings when Scrabble is just too hard.
The cottage, which adjoins another, is surrounded by fragrant gardens of lavender, rosemary and rambling gardenia bushes. The property has a couple of ponds where all kinds of water birds splash. It's not as near the beach as I expected, although Pretty Beach House, a sister property that will reopen in March after being damaged by fire, is an easy walk to surf spot Tallow Beach and the secluded Lobster Beach.
Many guests come to Bells just for  Stefano Manfredi's cooking. Manfredi has been instrumental introducing regional Italian cooking to Australia and his proteges have included Australian culinary heroes Kylie Kwong and Matt Moran. The Sunday Feast is a big event here, with set Tuscan-style menus that include what's seasonal from the 500 square metre organic garden and the very best from regional providores and growers.
For guests sleeping over, breakfast is a buffet that includes some seriously good pastries, including the lightest, flakiest croissants we've had this side of the Seine. And if you want to take something home, there are loaves of bread for sale each day.
Activities include mapped walking tracks, surf beaches, boating, seaplane tours, or a stroll through the vegetable garden with Head Chef Marco Ribechini. Vigorous walks (if you have to) can be followed with a massage at the spa, which specialises in Australian aboriginal healing techniques, using Li'Tya products. Nearby Killcare, Hardy's Bay and Wagstaffe have some cafes and restaurants such as The Fat Goose Bakery and Yum Yum's but it's not Bondi. You may need to drive further afield if you crave some nightlife. But if you crave nightlife you probably shouldn't be holidaying there.
If you'd like to know more about the region, travel writer and author Susan Kurosawa has written about moving from the city to Hardy's Bay in her memoir, Coasting: A Year by the Bay.
Bells at Killcare boutique hotel, restaurant & spa: 107 The Scenic Road, Killcare Heights, New South Wales, Australia, 2257; phone: +61 2 4349 7000. Bookings: info@bellsatkillcare.com.au or via View Retreats.
Mr and Mrs Amos were guests of Bells at Killcare.