The Best Little Town in Texas
The buzz is all about Marfa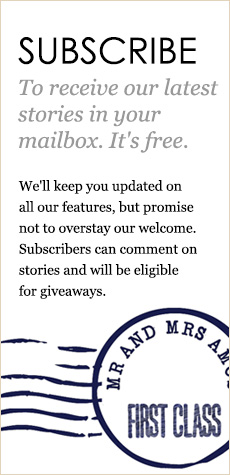 Marfa is not on the interstate.
It's not near a big city, a major airport or an outlet mall. It doesn't have a McDonalds, a Starbucks, or most of the other familiar signs of global commercialism, just a solitary Dairy Queen. Despite the fact that more than a dozen trains run through the center of town every day, like the tumbleweeds that blow across Highway 90 in the winter months, they never stop. The sign on the edge of town announces the population: 2121. Sometimes I wish I could change that sign to 2122!
The first time I arrived in Marfa was in 2004 after a weekend of hiking, rafting and horseback riding in Big Bend National Park. I had taken the infamous and spectacular River Road up from Terlingua Ghost Town and was still caked in the mud of the Rio Grande. It was the middle of August, one of the hottest months of the year in Far West Texas, but by dusk, as I pulled around the bend, past the kilometer-long alignment of Donald Judd's concrete blocks, and first saw the town of Marfa, the sting was out of the sun, the sky was the color of Russian Sage and the warm peach of the majestic Presidio County Court House almost glowed in the background. It was kind of perfect, and I was hooked.
I pulled into the historic Paisano Hotel which was what had first lured me to the town. I had spent summers before this one driving around the South West, exploring small towns, and staying at historic hotels. Often abandoned after interstates are built or when train service comes to an end, these towns are typically a snapshot of another time and either slowly blow away over the years or are gradually torn down. But, if any preservation efforts are made they're usually focused around the grand hotels that were the social hubs of their time.
While Marfa is hardly a town blowing in the wind, their hotel is a treasure (and actually a National Historic Landmark). The Paisano was built in 1930 by Henry Trost and is probably most famous for being the home-away-from-home for the cast of the George Steven's epic Giant in 1955 when they were shooting the film in the area. I had already reserved room 223, the unassumingly small room at the top of the stairs that James Dean had called home when he stayed in Marfa. I made the beginner's mistake of arriving early in the week on that trip and found most stores and restaurants closed, except the impressive Marfa Book Company (actually not as much of an anomaly as the idea sounds). So I extended my planned two day trip into three, beginning a pattern that I've repeated often.
I came back two years later on a road trip that had taken me through some of New Mexico's incredible historic hotels: The Lodge in Cloudcroft, The Plaza in Las Vegas, and my favorite, The El Rancho in Gallup. I planned my visit to Marfa this time when things were actually open, towards the weekend. I walked the fields around Judd's concrete blocks and toured the Dan Flavin works in the repurposed army barracks of Chinati Foundation. I spent the late afternoon in what had been the personal residence of Donald Judd, learned a little about his ideas of minimalist art in a harsh environment and wandered the quiet streets. I loved the town even more but still was hard pressed to figure out why. Was it the breadth of Highland Avenue that just made me want to walk slower? Was it the ghostly painted signage fading on so many of the old commercial buildings? The mix of crumbling adobe ruins amongst starkly remodeled ones surrounded by geographically-appropriate xeriscaping? It might have been the pristinely preserved Judd Foundation buildings on Highland or the crumbly Fort D.A Russell building due to be immortalized by artist Robert Irwin? I realized that if I really wanted to find the answer I'd have to spend more time here.
In 2007 Hollywood returned to Marfa to shoot No Country for Old Men, and There will be Blood, and so did I. I'd placed a classified in the local newspaper, the Big Bend Sentinel, saying that I was willing to swap my little New York City studio for someone's casita in Marfa. My parents had swapped successfully with families in Europe, the US and South America so I was game. I also arranged to volunteer at the local, and brand new, public radio station (in fact, so brand new that they weren't even on the air yet, a fact I didn't discover until I arrived in town) because I wanted to experience Marfa less as a tourist and more as a local. That summer I had so much more than the experience I expected – and I added a week to my planned month-long stay.
After that summer I began finding reasons to get back to Far West Texas and Marfa has no shortage of these: an art show opening one weekend, a film screening another, a dog sitting gig for a week. I would get up at 5am and travel "planes, trains and automobiles" for almost 12 hours from New York to see a band play in Marfa that I wouldn't contemplate getting in a cab to go see perform in Brooklyn. By 2008 I decided that I needed a home to come to if I was going to spend so much time here. I started shopping around and when I saw the little house on Edinburg Street that was just on the right side of renovated I thought it was perfect for me. Nothing boring to do like roofs and hot water systems, just the fun stuff like painting, decorating and planting. Now I had another excuse to come to Marfa. I had to check on the progress of my new porch (slow, due to Marfa's notorious manana attitude), and the condition of my agave plants (much better owing to Marfa's "island in the sky" location on a mile high plateau in the Chihuahuan Desert.)
So now I'm caught somewhere between being a local and a visitor…maybe I'm a semi-regular; a part-timer; or, as others like myself from New York, Austin and Los Angeles often say "I come and go". I still get a little excited that I have to stop at the crossing when the train flies through, I can't help pulling out my iPhone when I see yet another spectacular West Texas sunset, and I love to see the horse trailers go through town headed to not-too-distant ranches; but I score "locals" prices at the film festival, chat with friends when I collect my mail at the post office, have a "regulars" card at the Frama coffee shop, and call in my order at Food Shark to avoid the lines on tourist-heavy summer Fridays. When friends come to visit Marfa I tell them that they don't want to miss the view from the top of the court house but I wait for them on the ground under the shade of the copious crape myrtle trees. And I don't think I'll ever not slow down, just a little, to get a better look at a herd of happy Black Angus cattle chewing intensely on the grass after a long rain, raising their heads in unison to stare down a stranger driving by. Some things it just doesn't matter whether you're a tourist, a local or you just come and go.
Food Shark
"Eat lunch at least at once at Food Shark! Fresh food served from a rehabbed 1974 bread delivery truck right next to the tracks. Signature plate is the Marfalafel but don't rule out the incredible daily specials posted on the chalk board. The friendly vibe makes this feel like the town's cafeteria." Where the train tracks cross Highland Ave, phone: (432) 386 6540 / 6757
Cochineal
"With a New York pedigree, (Tom Rapp and Toshi Sakihara owned Michelin-starred Etats Unis in New York for 13 years) Cochineal is incredible dining in the middle of the desert. Take a date pudding in the courtyard once the scorching sun has set. 'Truly innovative', as Rapp puts it, is their 7 night-a-week schedule." 107 1/2 West San Antonio Street, phone: (432) 729 3300
Maiya's
"The original (around since 2002) upscale restaurant in Marfa, Maiya's has stayed popular with tasty Northern Italian pastas (chef Maiya Keck spent summers in Italy as a child) and great steak, (popular with this ranching community). Sit outside on Highland or at the cool concrete bar and have a Prickly Pear Cosmo made with locally-bottled Yellow Jacket Prickly Pear Syrup. 103 North Highland Avenue, phone: (432) 729 4410
Thunderbird
"Built in 1959, but transformed in 2005 the Thunderbird is a chic roadside motel which has bicycles, typewriters and turntables for rent. Rooms have a Judd-esque feel, plus, it boasts the only outdoor pool in a town where temps can hover for weeks in the 90s." 601 West San Antonio Street, phone: (432) 729 1984
The Paisano
"Appreciate the Paisano purely for the historical architecture but also enjoy the fireplace room off the lobby in winter, and the courtyard is the only spot (literally) for late Sunday afternoon drinks. Imagine the ranchers doing the same in the 1930s." 207 North Highland Avenue, phone: (432) 729 3838
El Cosmico
"El Cosmico is a trailer park in no sense of the word that you've ever used before. Reserve the 1953 Vintage "Vagabond" trailer or a sparsely outfitted safari tent for a cool alternative to any motel chain." 802 South Highland Avenue, phone: (432) 729 1950
Marfa Book Company
"Owned by a former Chinati intern the spacious Marfa Book Company stocks all you need to learn more about Judd and the other artists' works you've just seen on the tour. Check out the back room gallery for art shows examining relationships between language and art, and also ask about author readings." 105 South Highland Ave, phone: (432) 729 3906
Chinati Foundation Fundacion Chinati
"The first place I send people to get a basic understanding of Donald Judd and his artistic peers is the Chinati Foundation. The morning portion of the tour includes Judd's spectacular 100 untitled works in mill aluminum, the Arena and the John Chamberlain works." 1 Cavalry Road, phone: (432) 729 4362
The Judd Foundation
"The founding father of modern day Marfa died in 1994 but through the Judd Foundation his minimalist aesthetic lives on. My favorite building to tour is The Block. See Judd's personal residence behind the imposing adobe brick walls that surround the former U.S Army's Quartermaster store." 104 South Highland Avenue, phone: (432) 729 4406
Ballroom Marfa
"It's always worth keeping an eye on Ballroom Marfa's upcoming programs to see which hip artists, musicians and filmmakers will be around working on projects." 108 East San Antonio Street, phone: (432) 729 3600
When to come
June and August are hot (but a dry desert heat as anyone will tell you), July is the rainy month, and it's been known to snow in January. Safe bets are Spring and Autumn. May is for the indie film set when Marfa Film Festival takes over the town. Past festivals have seen Larry McMurtry, Lou Reed and America Ferrera packed into the historic Crowley Theater. El Cosmico has an annual party in September with indie bands and the infamous "Marfa v Austin" baseball game . For full immersion in Marfa's artistic offerings visit during Chinati Open House weekend in October. Also, check out Ballroom Marfa for their diverse schedule of film, music and art events throughout the year, which in the past has included performances by Sonic Youth and Jeff Tweedy. Also, try the fledgling Marfa Jazz Festival in August and the long-established Marfa Lights Festival in September.
SAM GRIFFIN
is a Documentary Investment Manager at Screen Australia. She returned to Sydney in 2010 after 15 years as a television producer (amongst other creative pursuits) in New York. She still 'summers' in Marfa. These photos were taken on her iPhone 4 with Instagram over the last couple of summers.