Lisbon Awakes
What you need to know about Europe's soulful city.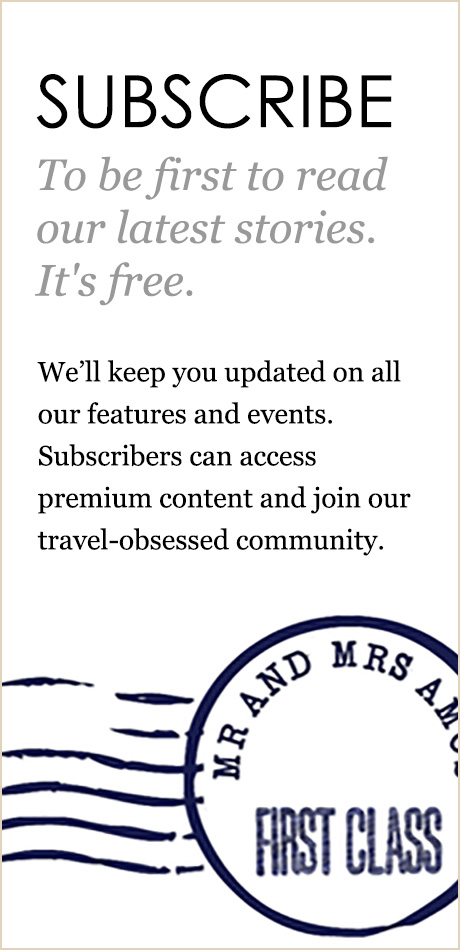 Beautiful Lisbon
feels like it has just woken up from a very long slumber. Even on the day we arrive, a national holiday when the streets are festooned with crepe paper and crowds line up for fresh sardines grilling on impromptu barbeques, the riverfront city has a sleepy air, layered with nostalgia – the 1930s-era wooden trams that screech around steep corners, the rattling funicular railways that have been lurching uphill since 1902, the lovely old art nouveau and art deco storefronts, untouched for a century, the ruined attics sprouting weeds, the tile-covered facades that have survived since the 17th Century, the dilapidated but elegant neighbourhoods that elsewhere would have been polished, gentrified, and seen their value skyrocket.
Lisbon is a moody, romantic city. It was, after all, the place where the lovers fled at the end of Casablanca. Lisboetas, as they are known, carry around with them a sense of saudad, or profound melancholy and nostalgia, expressed through by the singers in the fado clubs of Alfama, the steep neighbourhood of red-tiled houses that was established by the Moors in the 8th century. Perhaps because of this tendency to be reflective, Lisbon has long been the forgotten cousin of European glamour cities such as Paris and Rome, despite it being the oldest city in Western Europe and the hub of the great Portuguese trading expeditions in the 15th-17th centuries.
It remains a city of traditions, of wonderful, original facades and beautiful old shops.
The economic crisis of 2008 was felt more strongly there than elsewhere. But this has finally worked in the Portuguese capital's favour, as disaffected Europeans, the French in particular, seek to relocate to more affordable cities, ones with strong cultural history and an inventory of beautiful buildings ripe for restoration.
Lisbon's position on the wide Tagus River near where it empties into the Atlantic Ocean, close to unspoiled beaches, the popular holiday destination of the Algarve, the vineyards of the Douro Valley, and landscapes rich with magnificent old castles and villas, makes it irresistible for many.
Lisbon's awakening has meant there is much construction and renovation going on in the older neighbourhoods. There are new hotels, such as the gleaming white, cliff-hanging Memmo Alfama, newly fashionable shopping districts, such as Principe Real, where a neo-Moorish mansion houses a collection of hip boutiques, and new cultural hotspots such as the Fábrica Braco de Prata arts factory in the bairro of Belém, a complex of bookstores, galleries and bars in a former munitions factory. Adding cultural cachet to Belém, the Museum of Art, Architecture and Technology, a dramatic new kunsthall building by AL_A. Lisbon's produce market, Mercado de Campo de Ourique, has been transformed into a clamorous meeting place lined with gourmet food stalls and pubs under an industrial-era atrium.
But it remains a city of traditions, of wonderful, original facades and beautiful old shops, some badly in need of repair, it's true, but gorgeous in their dilapidation. Lovers of the decorative arts, especially ceramics, may feel they've just stepped in heaven.
On the main pedestrian street, Rua Garrett, there's the oldest continuously operating bookshop in the world, Bertrand, which dates to 1732. A few doors down, the art nouveau A Brasileira, is the first coffee shop in the city, opening in 1905. Confeitaria Nacional, on the Praca da Figueira, is Lisbon's oldest patisserie, founded in 1829.
Further along the street, there's the tiny 1920s glove shop, Luvaria Ulisses, which fits no more than two customers at a time, and Paris Em Lisboa, selling Parisian fabrics, bedding and towels since 1888, still with its original wooden interiors. The Spanish accessory brand TOUS has taken over the gilded salon of a century-old goldsmith. The artisan candle maker Caza Das Vellas Loreto was founded on the Rua do Loreto on the day that marked the beginning of the French Revolution. The interior decor has hardly changed – and it still sells handmade beeswax candles. On the Praça de Pedro IV, the city's downtown hub, the jewellery store Joalharia Ferreira Marques features one of Portugal's most beautiful Art Nouveau facades.
'We always do things a century after everyone else,' our official guide explains.
Lisbon's gastronomy involves more than sardines and bacalhau and home-grown chefs such as Jose Avillez are playfully modernising traditions but (thankfully) Portugal's most famous culinary export, the egg custard tart, or pastel de nata, has been baked and sold at Fabrica de Pastéis de Belém since 1837. The cinnamon-sprinkled pastéis de belém, using the original recipe handed down by the monks of the Jerónimos Monastery, is so delicious it's worth the inevitable wait on line.
'We always do things a century after everyone else,' our official guide explains as we're studying one of the finest examples of Portuguese baroque, the late 17th century São Roque church, which was built a hundred years after baroque began to flourish in Italy. Unlike many other important churches in Europe, it's tucked away, with only a few tourists marvelling at the ornate chapels, one inlaid with 27 different gemstones.But for most visitors, including this one, Lisbon's arrested development is its great charm. Go soon, while it's still delightfully retro.
STAY
Romantic
Palacio Ramalhete. This 18th Century mansion inspired one of Portugal's most famous novels. The rooms are a step into history, with tiled walls, wood panelling, original furnishings and a fabulous terraced garden with rooftop pool.
Contemporary
Memmo Alfama. The all white hotel in the heart of Lisbon's most picturesque district defines cool for the city. Gleaming white rooms and stylish public rooms, built upon an ancient bakery, cliff-hang over the harbour. The infinity pool and deck may be the hippest place to be seen in town.
Historic
Pestana Pousada de Lisboa. This grand hotel, brilliantly situated on Lisbon's waterfront Praça do Comércio, is located in a centuries-old palace that was formerly the offices of the dictator Salazar. These days, it's far more salubrious and full of treasures from the national museum.
DINE
Bistro 100 Manieras
Chef Lujubomir Stanisic is a champion of Portuguese gastronomy, with a TV program and four published books on the subject. This stylish bistro in a historic art deco building central Chiado has been recognised as one of the top ten restaurants in the country. It's comfort food with class. Reservations.
Mini Bar
Jose Avillez is Portugal's most progressive chef and his flamboyant restaurant inside Lisbon's São Luiz Municipal theatre serves wildly creative food in 'acts.' There's an 'epic' menu of several courses for a frugal €48.5. Start with the margarita captured inside an apple and finish with the riff on Ferrero Rocher chocolates. Reservations.
SHOP
A Vida Portuguesa
Dedicated to Portuguese crafts, this lovely shop occupies an old perfume factory in central Chiado. The shelves are stocked with oldfashioned soaps and toiletries, ceramics by local artists, cork platters, embroidery, papers and traditional foods, such as brightly labelled cans of sardines. Further information.
Vista Alegre Porcelain
This is the retail store for the renowned 200 year-old porcelain manufacturer, which supplies fine handcrafted porcelain to many royal tables and the White House. From traditional glazed ceramic cabbage leaf bowls to collaborations to contemporary artists, the work is surprisingly affordable. They will ship internationally. Further information.
Embaixada
Lisbon's newest shopping precinct can be found within the walls of the Ribeiro da Cunha Palace at Praça de Principe Real, 26. The neo-Moorish 1856 mansion has an Arabic courtyard, grand staircase, stained glass windows and art nouveau fireplaces. The boutiques include local fashion designers, furnishings, footwear and men's accessories. At the rear of the building is a bucolic garden cafe that backs on to the Botanic Gardens.
VISIT
Clube de Fado
Lisbon's sultry Fado clubs, most in the old Alfama district, are legendary. Clube de Fado features many of the best singers. Our advice is not to eat there, as the tour groups do. Instead, go after 10.30 pm and pay the €10 cover charge. By the end of the evening, the intimate room was almost empty and we had the musicians almost to ourselves. Further information.
National Azulejo Museum
Lisbon is all about the beautiful tiles, or azulejos, some 500 years old, which cover the facades of its buildings. This museum at Rua da Madre Deus 4, is housed in a medieval convent that is worth visiting for its cloisters and extravagant baroque chapel, aside from the ceramics. It includes tiles dating to the 15th century and a 53 metre-long mural of 1300 tiles from 1738.
GETTING THERE
British Airways flies from London Heathrow to Lisbon three times daily. First and Business Class passengers have access to the airline's superb lounges and Elemis spa, in the state-of-the-art T5.