Find your Inner Viking
Get festive in Stockholm's old town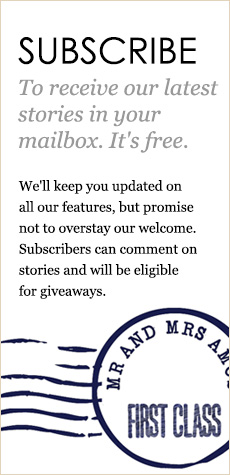 The region around
Stockholm was Viking heartland during the Dark Ages, but the Vikings may not have found much use for the plastic shields and moose-shaped toilet-roll holders that fill the souvenir shops on the western side of the city's old town, Gamla Stan.
Gamla Stan occupies a small island, Stadsholmen, that links the city centre to Södermalm, the hilly, bohemian neighbourhood where Stieg Larsson's Millennium trilogy is set (the Millennium Tour offered by the Stockholm Visitors Board is a must-do for fans). The island's cobbled streets are well-trodden by tourists who come to visit the imposing 18th Century Royal Palace and see the changing of the guards (every two hours – they're busier than Buckingham Palace.)
But Gamla Stan also has quiet pockets and pedestrian streets full of intriguing shops that seem to exist outside the souvenir-buyer's orbit. Even Stockholm's oldest and most famous restaurant, Den Gyldene Freden at Österlångattan 51, which dates from 1722, feels local and authentic when you stop by for a lunch of Swedish meatballs. No wonder – it's the oldest restaurant in the world with an unaltered interior. It's lit by candles, even in the daytime.
Gamla Stan is ringed by Österlångattan (East Long Street) and Våsterlanggatan (West Long Street). If you walked at a brisk pace it would probably take only 30 minutes to circumvent the island. In the centre, where it's hilly, alleys with names such as Slope of the Ramshackle House and Shoemaker's Street radiate from a former market square, Stortorget, which is lined with old merchant houses, new bakeries and restaurants with outdoor terraces, best enjoyed during the brief few weeks of summer. Here you can find the Nobel Museum, with its pleasant café, situated the Stock Exchange building that faces the square.
In the earlier part of last century, this residential neighbourhood was a slum, and happily it was overlooked for any significant new development. Anyone interested in architecture will get some serious thrills from wandering the narrow lanes. While most of the mansion-roofed, German-style houses, painted rich ochres and reds, date back to the 17th Century, some are thought to be much older.
The medieval city and fortress walls lie less than a metre beneath the newer buildings and medieval details such as water pipes and iron reinforcements can be found on many facades. There are carved Viking stones set into the walls in various locations, so keep a sharp eye out for them. The only sign of modernity in some streets is the extraordinary number of cigarette butts that fill the gutters of an otherwise tidy neighbourhood. The Swedes are heavy smokers.
They're also the world's number one coffee drinkers, averaging eight cups a day. Going for a fika (socialising over coffee) is a national pastime. That means you're never at a loss for a place to sit and while away an hour or two. The pretty café and bakery Under Kastanjen (Under the Chestnut Tree) at Kindstugatan 1, is situated in a beautiful pocket with outdoor tables under (yes) a spreading chestnut tree. Cafe Rosen at Österlångattan 9 serves up home made Swedish specialities and cakes, and, if you're adventurous, descend to the oldest vaulted cellar in the city for coffee and truffles at Brautijams, Våsterlanggatan 49. If the medieval world gets too much, you can launch yourself into the Belle Epoque with a drink at the opulent Le Bar Rouge at Österlångattan 17.
The Swedes are  the world's number one coffee drinkers, averaging eight cups a day.
While Våsterlanggatan is the most touristy street, it's still marked by some beautiful architecture and passageways. There are lots of Viking garden gnomes, clogs and reindeer pelts, but also some interesting boutiques, including Ewa iWalla at no 35, for romantic flounced dresses designed for grown up Pippi Longstockings, and Georg Sörman at no 57, a traditional knitwear shop (from 1917) where you might snaffle a trendy patterned sweater like that favoured by The Killing's Sarah Lund.
Among the chocolate shops and wine bars (stop at Lisa's Sweet Shop, no 65, for a gooey moccabollar) there are glove shops (Handskbutiken at no 71) and shoe shops, such as the charming Roberta Settel's Sandalbutik at no 54, which sells simple hand-made leather sandals. The street was once famous for its milliners but few of these remain (unless you are looking for a Viking helmet.) At no 36, the flagship store of jeweller Edblad, from Sweden's northern archipelago, has some very stylish stainless steel pieces at good prices.
Head for Iris Hantverk at no 24 for the best of Swedish rustic interior design – thick blankets, clogs, feltwork and brushes. At the other end of the scale, there's a most fascinating, chaotic junk shop at no 39, so layered with old military uniforms, weapons, letters, magazines and medals it would take months to unearth anything at the bottom of the pile.
Eventually, you will find yourself on Österlångattan. The tourists thin out and there are some wonderful little shops. Sticka at no 41 sells unique hand-loomed yarns in an extraordinary range of textures and colours – a knitters delight. The shop also sells ready-made garments, some with elaborate fur collars, and vests made from reindeer pelts. At no 37, Johannes showcases a gorgeous collection of homewares, antiques and bric-a-brac, including vintage costumes from the Swedish National Theatre. And the amusingly named Fartygsmagasinet at no 33 is a treasure trove of nautical memorabilia, including old menus and crockery from cruise ships.
Walking around Gamla Stan you're reminded that water is never far away. Stadsholmen is only one of the fourteen islands, scattered like breadcrumbs between Lake Mälaren and the Baltic Sea, which make up greater Stockholm. But even in the blustery winter months this little island is inviting, with its yellow-painted buildings and glowing candlelit interiors. And there is no shortage of warm cinnamon buns and cups of hot chocolate to warm you up.
WE STAYED AT
It's only a few minutes walk along the harbour from Gamla Stan to Stockholm's venerable five-star Grand Hotel, favoured by Greta Garbo and most visiting celebrities. The elegant Grand doesn't rest on its laurels, though – rooms have been recently renovated, the harbour-front Veranda cafe has been transformed, and the new Nordic Spa and Health Club is truly superb. Perhaps best of all, Mathias Dahlgren, one Sweden's most revered chefs operates two restaurants in the hotel – the two Michelin starred Matsalen and the marvellous one-starred bistro, Matbaren. Södra Blasieholmshamnen 8;  Tel +46 (0) 8 679 35 00; www.grandhotel.se